Hebden Bridge crowned Best for Blues - again
Monday, 26 August 2013
Hebden Bridge Blues Festival has won the prestigious British Blues Award for "Festival of the Year" for the second consecutive year at the ceremony in Colne yesterday.
Organiser Jason Elliott told the Hebweb, "We are delighted with the recognition, especially so early in our history, but this award really belongs to all of the people who rolled up their sleeves and got involved in the project. We would particularly like to thank the people of Hebden Bridge and Calderdale who voted for us."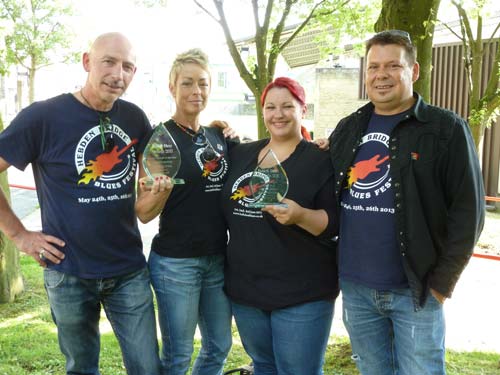 Co-organiser Paddy Maguire added, "This gives us the remarkable timeline of Established 2011, British Blues Awards Winner 2012, British Blues Awards Winner 2013, which isn't too shabby considering Jason and I have just been making it up as we have gone along."
"We have got some changes on the way for 2014," said Jason. "Some are secret of course, but some I can reveal, like more free gigs during the daytime in the pubs around the town. We are also very pleased to say the Calderdale Council have decided to help us out by letting us have a temporary campsite on the park, equipped with showers and security, to counteract the huge deficit of accommodation in the town."
"The two main venues of Hope Baptist Church and Salem Community Centre were fantastic last year so, although a few tweaks are needed, these will be the central twin hubs again for 2014."
Next year will also have a bit more of an international flavour as Paddy explained, "Previously, we have had a couple of US bands, but as we've gone on and the Hebden Bridge magic has started to spread across the globe, the interest from overseas has increased, both from visitor and artists, so we we will be treating the town to some more international Blues next year, but I'm not at liberty to reveal who yet."
Previously, on the HebWeb
HebWeb News: Blues Festival: 14 bands to play for free (22 May 2013)
HebWeb News: Blues Festival nominated again for British Blues Awards, and background to the Festival (2-3 May 2013)
HebWeb News: Award-Winning Blues Festival Announces its 2013 Line-up (May 2012)
HebWeb News: Huge Hebden Blues Festival Blows into Town (May 2012)
HebWeb News: Hebden Bridge Blues Festival may be the best in the country
HebWeb News: The Cream of the Blues coming to the Calder Valley next month