Objections to Sainsbury's plans
Updated Sunday, 2 March 2014
Friday 28th February was the deadline for comments on Sainsbury's plans. 537 were received opposing the development with just 4 comments in favour. See below for more info, and the most forum thread on the topic. The next stage will be consideration by the Planning Committee of Calderdale Council.
Sainsbury's plans now online
Updated 30th January 2014
Plans now submitted (13/01542/FUL) and it was on the agenda for yesterday evening's Hebden Royd Town Council meeting.
Hebden Royd Town Council voted to reject the plans, which now go to Calderdale for consideration. Click here to read a report of the discussion, the vote and representations made.
Click here to see documents associated with the planning application.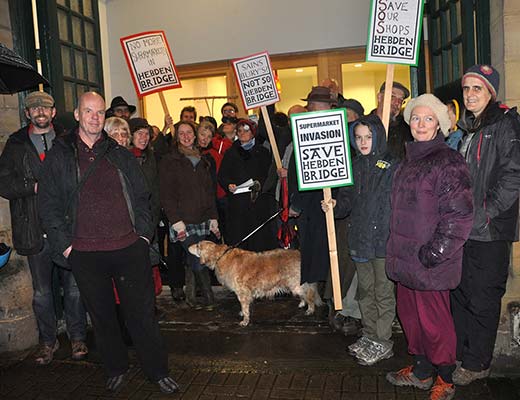 You can comment on the application online, but you need to register with Calderdale Council first.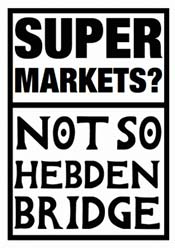 Those opposing the plans will find the SOShebdenbridge site useful, especially this page which outlines how to object, and makes suggestions of what particular points to make.
It is suggested that reasons to object include increased traffic problems (deliveries and customer parking), loss of independent shops (unfair competition), loss of local jobs and loss of local diversity (Hebden will become same as everywhere else).
Writing to Hebden Royd councillors, Calderdale councillors and Craig Whittaker MP is also encouraged.