Tour de France: Cragg Vale bunting-makers seek world record
Monday, 10 February 2014

Calderdale's Tour de Cragg volunteer force is aiming to show the men's England cricket team how to hit the Aussies for six.
When it was announced that the Tour de France's Grand Depart will pass through Cragg Vale, near Hebden Bridge on July 6, locals began work on sewing miles of bunting to line the route through the village - and to break the world record for the longest single stretch.
Until recently that record was held by Torpoint in Cornwall, who created 4.715.70 kilometres ( 2 miles 1636 yards) during the Queen's Diamond Jubilee Celebrations in 2012 and made it into the Guinness Book of World Records.
Then, just as England's cricketers were heading for a whitewash in The Ashes in December, along came the people of Yackandandah (correct), a small town in Victoria, to snatch victory in the Battle of the Bunting with a 7.7823 kilometre stretch – or 4 miles 615 yards.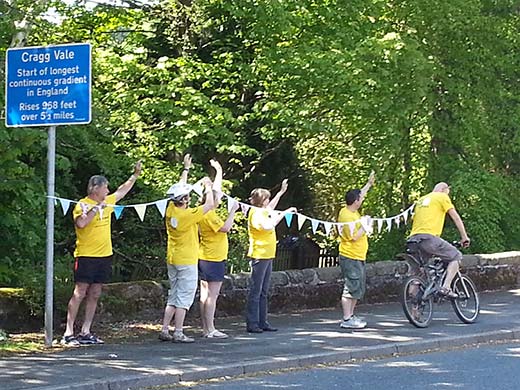 Now the bunting-makers of Cragg Vale, which boasts the longest single continuous gradient in the country, are determined to emulate England's successful women cricketers by bringing the record back to the UK before the world's top cyclists head to Calderdale. Their new target is now to create at least five miles of bunting.
Sharon Le Corre, one of Cragg's two bunting co-ordinators, is appealing to all bunting makers to hand in their completed sections as soon as possible so that it can be measured ahead of the deadline of May 26, Bank Holiday weekend.
"We know that lots of people have already completed some bunting and we would love to see it now, even if they plan to make more," says Sharon. "We need time to check and measure it all, to make sure we're on course for the record."
Bunting makers can drop off their finished work at the Robin Hood pub in Cragg Vale after 7.30pm on the second and fourth Mondays of every month, when volunteers meet to assess progress.There is also a collection point at Word of Mouth craft shop in Hebden Bridge.
"People can come along if they have any questions, or just to join us for a drink and some encouragement to spur them on," she says.
More than 200 people have enquired about making bunting and more than 100 are already busy sewing. Local schools and churches have embraced the project.
The co-ordinators are now working on the logistics of hanging the bunting along the length of Cragg Road to celebrate the arrival of the world's largest annual sporting event in Calderdale.