Sunday, 6 April 2014
GRAND PIANO HAULED UP CRAGG VALE BY BIKE
Hundreds crowded the streets of Mytholmroyd and Cragg Vale yesterday as 18 cyclists hauled a grand piano up the longest continual incline in the country.
As well as being an enjoyable and madly, fun event it served to advertise next weekend's Piano Festival, Mytholmroyd Gala and give a taste of what is in store for our area when the Tour de France arrive on 6 July.
See HebWeb Photo Gallery of Saturday's events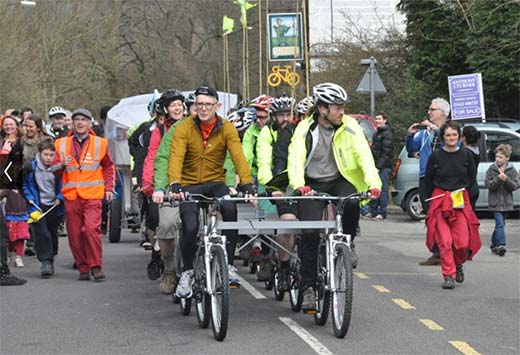 Monday, 17 February 2014
The Grand Departs - How many cyclists does it take to pull a grand piano up Cragg Vale?
Extreme cycling meets extreme piano playing in grand depart challenge
Imove and Hebden Bridge Piano Festival are delighted to announce that they will be working together in a first time challenge for Yorkshire Festival 2014 to celebrate the Tour de France's visit to Yorkshire.
On 5 April a team of cyclists and pianists will take part in The Grand Departs, an epic musical and physical feat of strength and endurance that will answer the question - How many cyclists does it take to pull a grand piano up a hill?
Starting at Mytholmroyd, a team of Calderdale's most resilient cyclists will pull a grand piano up Cragg Vale Road to the top of Blackstone Edge, the longest continuous ascent in the Grand Départ route. Local and international pianists will play a non-stop specially composed piano performance throughout the climb.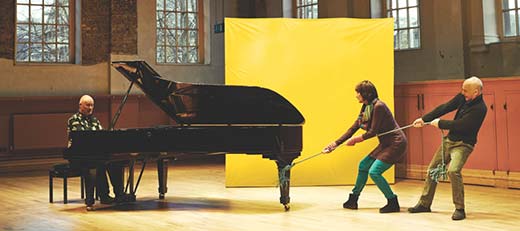 David Nelson, Artistic Director for The Grand Departs (at the piano above) said, "What better way to welcome 'Le Tour' to Yorkshire than with an audacious musical pedaling crazy adventure? This has never been done before - probably for a very good reason – but we're up for the challenge."
A bespoke vehicle called a PianoPorté is being designed and built for The Grand Departs by local sculptor Andy Plant. It will be powered by cycles, with a grand piano on loan from the Piano Man, and will be up to 50 feet long.
Local residents will be asked to lend their moral support by cheering on the spectacle and invited to join in the send-off at 12 noon in Mytholmroyd. Additional stop-off points will be announced nearer the time.
Yorkshire Festival 2014 is the first ever arts festival to precede the Grand Départ in its 111 year history. Nearly 50 events have been selected to be officially part of Yorkshire Festival 2014, which will also include hundreds of fringe events.
Visit www.yorkshirefestival.co.uk, Yorkshire Festival on Facebook or follow Yorkshire Festival 2014 on Twitter - YFest2014
Visit www.imovearts.co.uk for The Grand Departs updates or follow @imovearts on Twitter.