Wednesday, 26 February 2014
Crazy ideas wanted for Handmade Parade spark day
Would you like to see aliens invading St George's Square, Bridge Gate turned into a bug world or Calder Holmes Park becoming a time travel hub? If so, now's the chance to make it happen.
Organisers of the Hebden Bridge Handmade Parade are holding a Spark Day on Saturday March 1 from 2-4pm at the parade workshops in Victoria Road, and want as many people as possible to come along with their bright ideas – the crazier the better!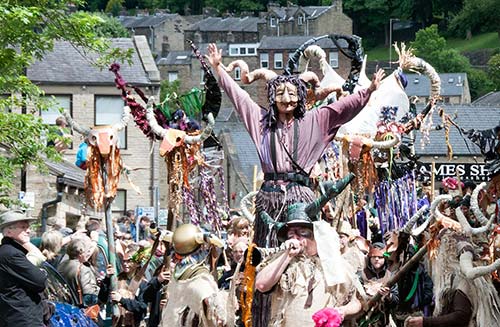 There'll be family friendly craft  activities, suggestion squares and the chance to find out more about volunteering to help out with parade.
Suggestion box displays are already up at Hebden Bridge Library and the Co-op and all the ideas and pictures submitted will be brought along to the Spark Day, which aims to help the town get into the parade spirit.
Parade organiser Hannah Merriman told the HebWeb, "This is where we ask our friends and community, what you want to see in the parade. Last year's theme, Myths, Mysteries and Mayhem came directly from our Spark Day, so you really do get a chance to shape the parade.
"We've already had a bundle of crazy suggestions so don't hold back, we want to hear all your thoughts."
Organisers would especially like to invite anyone interested in volunteering for the parade. Ms Merriman explained, "With a smaller budget than last year there are a hundred ways you could be vital to us from artistic support to admin duties, carpentry to car parks, stewarding to stupid hat making! If you've volunteered before, we'd love to see you again, and if you haven't, come along to Spark Day for a no commitment chat to find out more."
on Email Hannah if you're interested but can't make it or would like to submit a theme idea.
The parade, now in its seventh year, will take place on Sunday June 8 with open workshops beginning on May 17.
Previous themes have included a Deluge of Delights, the Glorious Garden Party, a Hop, Skip and a Jump, the Fabulous Feast and the Enchanted Forest and have inspired creations such as bees on scooters, fluorescent aliens, stilt-walking geese and a mechanical spider.