The Rise of Real Bread in the Calder Valley
Thursday, 17 April 2014
Nestled at the foot of Cragg Vale, on the route of the Tour de France a small artisan bakery, the Bakehouse, has risen to provide better bred bread to the local community. The bakery is a coop of 7 members and 3 volunteers who share a passion for local produce and the community spirit it brings.
Starting as a one woman bakery in her friend's kitchen, Kirsty, a founder member of the Bakehouse wanted to create loaves free from the additives and enzymes in prepackage bread and produce something slow fermented, nutritious and delicious.
"Reducing ingredient miles and supporting small local producers and businesses has been a key objective," says Kirsty. "We even have a bread bike and use man power rather than petrol to get our bread to our customers."
The Bakehouse has expanded from its days in the kitchen with premises on the Top Land business park but that doesn't mean they have forgotten their roots.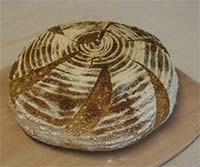 Loads of adults remember days baking with their parents or grandparents with fondness and the Bakehouse are only too happy to inspire you to get back in the kitchen, kneading is a proven stress buster and it's great to get the kids involved with it too. "We'd love to share our knowledge and skills with budding home bakers, no matter what your age a freshly baked loaf that you've lovingly kneaded, shaped and baked gives an enormous sense of joy when it's pulled from the oven".

A variety of day and part day courses have been developed to demonstrate how easy a better bred loaf can be. Basic bread, croissant and bagel making courses are available throughout May.
For more details email or visit the Bakehouse website
Previously, on the HebWeb
HebWeb News: The Bakehouse - bringing bread, bikes and bods together (July 2013)