Northlight Launches its Autumn Term programme of creative Courses
Thursday 21 Aug 2014
Get a free taste of Northlight's new programme of Art and Craft courses!
A new year of creative courses and workshops starts again on 15th September at Northlight Art Education - the Education Initiative at Northlight Art Studios, Hebden Bridge.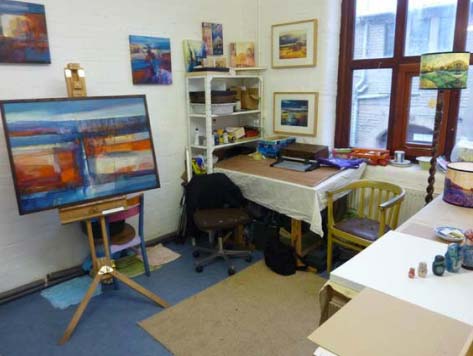 Last year saw over 500 enrolments - a new record! In response Northlight are now extending the breadth of their programme. This year there are two opportunities to find out more about their courses:
An information and enrolment session hosted by coordinator Don Myers on Wednesday 3rd September from 2pm - 8pm and a free taster day on Saturday 6th September 11am - 3pm.
The taster day will offer eight short sessions that will give an idea of some of the regular classes at Northlight - Art for the Terrified, Stained Glass, Creative Textiles, Oil Painting, Watercolour, Paper crafts and Printmaking.
The Autumn term sees the continuation of successful regular classes plus the addition of new courses - 'Art Foundations' with Tina Foran that offers intermediate level tuition; an Oil Painting evening class with Dominic Vince, a new daytime Creative Textiles session and a Watercolour course. Art for the Terrified, Life Drawing, Stained Glass, Ceramics, Printmaking, Paper crafts and Oil Painting all continue to attract a strong following and are again offered for the Autumn term.
Northlight's Day workshop programme has also gone from strength to strength. This term there is a decidedly 'bookish' feel to the programme with the launch of the new 'Writer's Toolkit' workshops with successful local writers Rachel Conner and Liz Flanagan, a 'Zines' workshop with artist Vic Cruz and a Bookbinding workshop with Kath Bolton.
There are also workshops in 'Using your Sewing Machine', Watercolour, Performance for Beginners, Willow & Paper Sculpture, Lino Printing and Paper Crafts.
Joining a class at Northlight now offers more than just a course. Participants get the chance to go on gallery trips, attend artist talks and social events, use the studio art library, exhibit their work and meet other like- minded creative people.
Northlight Art Education can be found within the Northlight Art Studio Building on Hangingroyd Lane, Hebden Bridge. To find out more about the Taster Day and to view details of the full Education Programme visit our website or contact Don Myers by email or tel:01422 843519
Previously, on the HebWeb
HebWeb News - A Summer of Artistic opportunity at Northlight Studios (June 2014)
HebWeb News - New Spring Term of Creative courses and big news from Northlight (Dec 2013)
HebWeb News - The 'Back Door' at Northlight Art Studios - an art studio for the community! (Aug 2013)