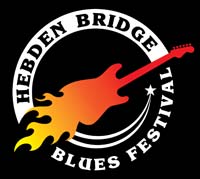 Hebden Bridge Bridge Blues Festival wins again
Sunday, 24 August 2014
Hebden Bridge Bridge Blues Festival today won an unprecedented third consecutive Festival of the Year title in the British Blues Awards.
After the presentation at the Colne Great British Rhythm & Blues Festival, organiser Jason Elliott told the Hebweb, "We still can't really work out how this has happened. Our small town festival should be being eclipsed by the big beasts like London or Colne, but something we've done seems to have caught the imagination of Blues fans across the globe.
"If ever there was a perfect time to call it a day, I guess this is it. We would like to take the opportunity to thank the many people in Hebden Bridge who have supported us over these four years."
Other British Blues Award winners today who have performed at Hebden Bridge included Chantel McGregor (Guitarist), Jo Harman (Female Vocals), Aynsley Lister (Song of the Year, Songwriter), Sarah Skinner (Instrumentalist) and Marcus Bonfanti (Acoustic Act).
Full list of nominated Blues Festivals for the 2014 British Blues Awards:
Abertillery Blues Festival
Bangor on Dee
Beer R&B Festival, Devon
Bentworth Blues Festival
Beverley Blues Festival
Blues in the City
Blues On The Farm
Bluesfest London
Broadstairs Blues Bash
Bushey Blues Festival
Cambridge Rock Festival
Carlisle Rock & Blues Festival
Dereham Blues Festival
Durham
Ealing Blues Festival
Gloucester Blues Festival
Great British Rhythm and Blues Festival Colne
Guisborough Rhythm and Blues Festival
Hebden Bridge Blues Festival
HRH Blues
Linton Blues Festival
Maryport
Newark Blues Festival
Scarborough
Shetland
Shrewsbury Theatre of Blues
Skegness Rock & Blues
Swanage Blues Festival
Tenby Blues Festival
Thornhill Blues Festival
Upton Blues Festival
Whitby
Previously, on the HebWeb
HebWeb News: Going out with a bang. Hebden Bridge Blues Festival 2014 to be the last. (May 2014)
HebWeb News: Hebden Bridge Blues Festival: Manitoba Hal joins lineup (15 May)
HebWeb News: Hebden Bridge Blues Festival 2014 (28 April)
Previous HebWeb coverage of the Hebden Bridge Blues Festivals