Local crowdfunded project: Operation Get Cracking is nearly halfway there
Tuesday 11 November 2014
Local makers' co-operative Made in the Valley are nearly halfway to reaching their target of £10,000 through crowdfunding on the internet.
The money raised from donors will be used to make more improvements to the Egg Factory, which is a new co-working space with facilities for small businesses on Victoria Road Hebden Bridge.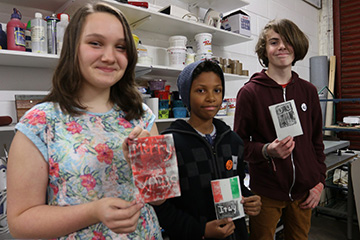 On Sunday, the team threw open their doors for an informal open afternoon with tea, cakes and some fun printing projects organised by Katch Skinner. Several people who'd pledged to the campaign, but hadn't stepped through the door before, came for a good look round.
Made in the Valley's Rachel Johns said, "People had a lot of questions, but they were all enthusiastic about the possibilities of and we got some new ideas to add to what we plan to offer."
"We've still got two weeks to go with the crowdfunding campaign, but we need Hebweb readers to help us by telling your friends and families, and sharing on social media.
"Please don't forget that many of the rewards, lovely items that we have designed and printed ourselves, will make really good Christmas presents. So you can help a local venture and do some shopping at the same time.
"We want to thank our 77 contributors, mostly local, but people all around the world have pitched in because they believe in us. That's why we launched Operation Get Cracking because we wanted to raise the money to get this egg hatched!"