A year's work by CROWS volunteers
Monday, 17 November 2014
Last November, HebWeb News reported, "A new volunteer Group has been formed to improve Calderdale's footpath network. The work will be in addition to projects carried out by Calderdale Council's Countryside Service."
CROWS (Community Rights of Way Services) is now a year old and has been reviewing its activities.
In the last year CROWS volunteers have repaired 45 km of path, they have created nearly 1.5 km of new path, 77 steps have been installed, 140 waymarks have been put in place and about seven and a half tons of mud removed from paths!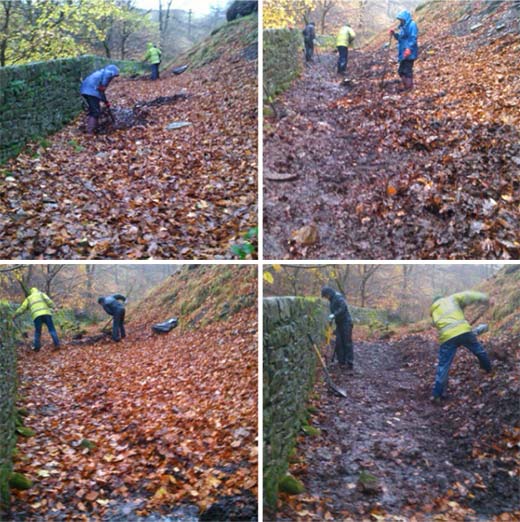 In the Hebden Royd area, CROWS have done work all around Hebden Bridge, Mytholmroyd and Cragg Vale including Burlees, Midgehole, Heptonstall, Blackshaw, Old Town, Redacre, Windle Hill, Cragg Brook and Sunny Bank.
Several paths that were totally blocked have now been cleared for use.
Peter Clarke, Chair of CROWS said, 'It has been a fantastic year; it is difficult to believe that a year ago we were just starting out with borrowed tools.
"It is so nice to see footpaths in our area coming back to life. We have to thank all the people who have financially supported us especially Calderdale Community Foundation, but as important has been the co-operation of local landowners, without which we couldn't carry out our work.'
CROWS has launched a report form for people spotting problems with paths. This can be found on their website or people can go into Mountain Wild and complete a form there.
Richard Peters, treasurer of CROWS said "We depend on local support to keep going. If people would like to support our work by making a small donation, they can now text CROW42£2/£5/£10 to 70070."


CROWS, White Ribbon House, 1, New Road, Mytholmroyd, HX7 5DZ
See also
HebWeb News: CROWS - Community Rights of Way Services (Nov 2013)
HebWeb News: CROWS - Fund Raising Benefit with Owter Zeds and Granny's Attic (March 2014)
HebWeb News: HebWeb News: Stairway to Old Town – Sponsors Wanted (May 2014)