Lamplighter Festival dazzles thousands
Tuesday, 9 December 2014
Thousands of people were treated to a breath-taking fire and light extravaganza when the Lamplighter Festival took to the streets of Todmorden on Saturday, 6 December.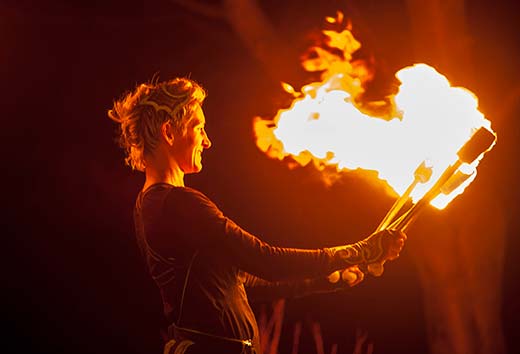 The event kicked off with a dazzling parade of lanterns, including the Lamplighter Lady made by Handmade Parade artist Kerith Ogden, a giant heron from the Liverpool Lantern Company and hundreds of jellyfish and fish lanterns made by families at open workshops.
Thousands of spectators cheered as the parade made its way from Lever Street, along Halifax Road, Water Street and Rise Lane to the Pollination Street finish. Local bands Mr. Wilson's Secondliners, Handmade Samba and Dhamak kept both those taking part and spectators entertained with their music along the route.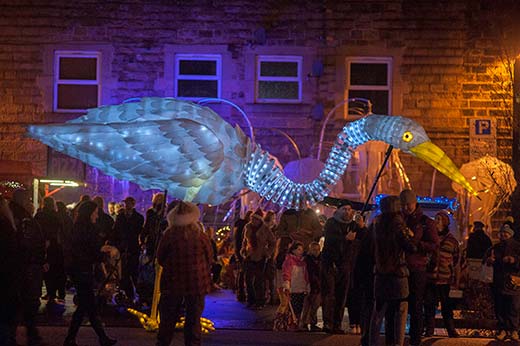 The crowds were then treated to two hours of live music, street theatre, fire shows and light installations. Highlights included fire shows by Flame Oz, illuminated installations by Spacecadets, giant flaming sculptural flowers by Walk the Plank, the world premiere of a new interactive street show by Frolicked called "Rat Race" featuring a giant cheese, the Fear Eater caravan from Wild Rumpus and performances by Todmorden Belly Dance.
A Christmas Crafts Market, showcasing work by local artists and craftspeople and a host of stalls from local food producers, also proved a bit hit with those attending.
Andrew Kim, Artistic Director of Handmade Parade and Todmorden resident, said, "We were thrilled with the amazing numbers lining the streets and the enthusiasm they showed us. With the success of the Fantastical Cycle Parade earlier this year and now a growing Lamplighter Festival, we are excited to produce events which helps make Todmorden a vibrant cultural destination".
Organisers Handmade Parade collected £515.06 on the night and would like to thank the generosity of those who attended. This amount will go toward offsetting some of the expenses of putting on the event.
Handmade Parade Event producer Jude Wadley said, "Our fabulous audience contributed so much to the success of this event with the warmth and energy they created. People came from far and wide to watch and take part in Lamplighter and the feedback we've had from them has been amazing and makes all the hard work worthwhile."
Last year's Lamplighter proved a huge hit with the thousands who watched and took part. The event followed on from the success of the Valley of Lights festival in Hebden Bridge which boosted the town after the floods of 2012.