Tour de Yorkshire
Wednesday, 21 January 2015
The route of the new Tour de Yorkshire has been announced today with three days of world class cycling coming to Calderdale, Cragg Vale and Hebden Bridge. Through our area, it follows a similar route to last year's Tour de France but in the opposite direction.
Click here to see a map of the route
The race will start on Friday 1 May along the east coast from Bridlington to Scarborough. On day 2 it will venture from Selby to end in a circuit around York. The day will also include a women's race.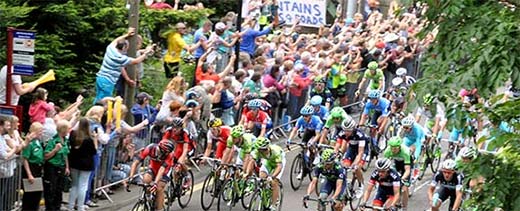 On Sunday 3 May the race will set off in Wakefield and end in Leeds travelling via Calderdale, descending through Ripponden, down Cragg Vale (the longest continuous decline in England), before travelling through Mytholmroyd and leaving the region via Hebden Bridge. There will also be a mass participation sportive on day 3 - more details will be announced shortly.
There's lots of information available about the race on the Visit Calderdale website which will have regular updates as the race draws closer.
It's only 100 days to go until race weekend, so get ready to release your Inner Cyclist (again!).
To celebrate all things cycling in Calderdale, check out the cyclecalderdale website. You can see some suggested routes, upcoming events and much much more. The site is growing and developing with routes across Calderdale to explore plus towns and villages that have so much to offer cyclists.