Pennine Way Loop is on its way
Wednesday, 25 February 2015
Since the route was announced in January, Hebden Bridge Walkers Action has been busy.
Mo Ludlam, the group's secretary says "the project is really beginning to take shape. She reports that CROWS has started work on improving the route and the first waymarks (see above) are starting to go up.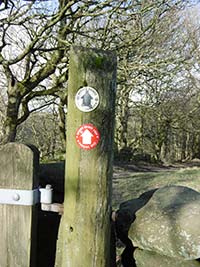 Dave Brooks, manage of Hebden Bridge Hostel has been working on the websites. He says "the websites are now up and running. We have a fantastic map of the route, a full list of accommodation in the area and a list of facilities in the both Hebden Bridge and Heptonstall. It's all looking good".
Ian Vickridge, the group's vice chair says "The Loop now has a presence on a dozen Pennine Way websites so every time someone researches walking the Pennine Way, the Loop will be highlighted. One further exciting development is a new guide to walking the central part of the Pennine Way which starts off in Hebden Bridge and follows our route through Heptonstall to Hebble Hole.
The launch on April 25th
John Dunford, the group's chair expects a good crowd of locals and visitors to the launch. He said "On the 25th we will walk the route with entertainment on the way featuring Calder Valley Voices, a photographic exhibition of Hebden Bridge in 1965, a performance of the Pace Egg play at Heptonstall and the Peace Artistes leading the walking group and performing at the New Delight. With Pennine Horizons launching their Radical History e-Trails on the Sunday, it should be a fun weekend for walkers."
Richard Peters, the group's treasurer, thanks all the individuals and businesses that have contributed so far, but to finish off the fund raising he said further contributions can be made by dropping off a cheque or cash at Mountain Wild or by texting CROWS42 £amount.
Further details of the project can be seen at Hebden Bridge Walkders Action website. And the Pennine Loop website
Previously
HebWeb News: Pennine Way Loop coming to Hebden Bridge and Heptonstall January 2015