HEPTONSTALL PACE EGG PLAY 2015
See photos from the 2015 Pace Egg Play
Good Friday, 3rd April in Weaver's Square, Heptonstall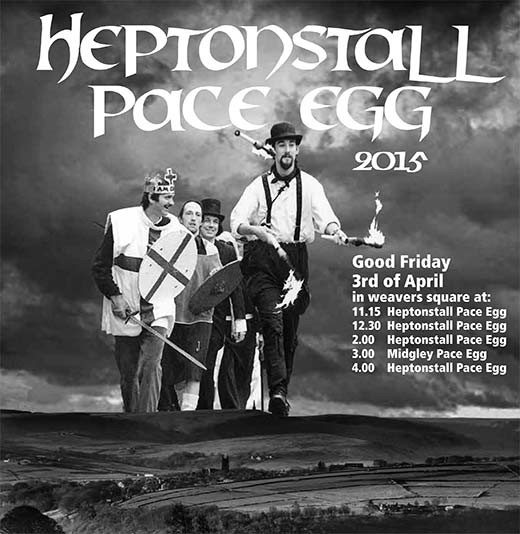 St George he went a-wandering, along the Pennine Way
He went up hill and then down dale, and thought that he might stay
Bold Slasher went a-wandering a-looking for a fight
He came upon St George up high. Have a go?
Yes he thought he might
The Doctor went a-wandering regardless of the weather
A bottle of nipnap in his hand, he said "Ee well I never"
The Prince he went a-wandering, making his bells to ring
After a while he started to flag, and then he started to sing
The King he went a-wandering, a-wandering by himself
He got lost among the hills, he thought he saw an elf!
Hector went a-wandering, or rather more a-run
He found the others up the hill, and asked to join the fun
Tosspot came a-capering, he followed a diversion
He got the drinks in down the pub, and then? Its not quite certain
And so dear reader do come out, come find the Pennine Loop
To Hebden Bridge. To Heptonstall. To cheer our merry troupe
The Hillmillies as always will be dancing between performances.
This year collection will be for:
Tumaini Education Trust, which provides funding and support to Tumaini Senior Primary School and Pepo La Tumaini community in Isiolo, Kenya.

Heptonstall Village Team, which runs events in the village, especially for the elderly, to support them and bring them together through social events and counter social isolation - members of the Team will be collecting.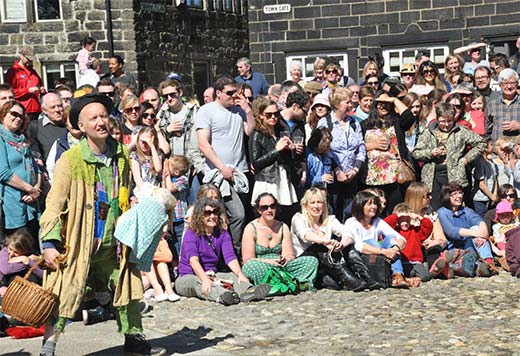 Performance times are as follows in Weaver's Square:
11.15 am Heptonstall Pace Egg
12.30 pm Heptonstall Pace Egg
2.00 pm Heptonstall Pace Egg
3.00pm Midgley Pace Egg (Calder High Players)
4.00pm Heptonstall Pace Egg

The cast are:
Master of Ceremonies, Neil Hope-Collins
St George, Stuart Hought
Bold Slasher, Jimmy Green
The Doctor, David Burnop
Black Prince, Andy Carter
King of Egypt, Sydney Roper
Hector, Rowan Carter
Toss Pot, Dean Gash

Pace Egg Extra
As part of a day of activities to mark the launch of the new PENNINE WAY LOOP there will be an extra one-off performance of the play in Weavers Square on 25th Saturday April at 2pm or soon after.