Festival jewellery and Festival hair
Tuesday, 12 May 2015
Local jewellery fans can bling up to help Hebden Bridge Arts festival thanks to a new ranges of rings produced by Element.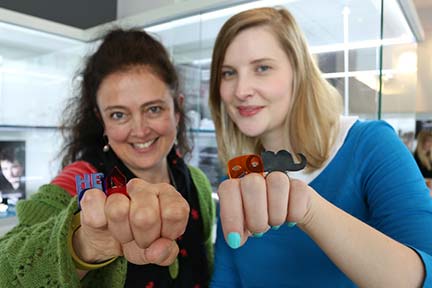 The jewellers who specialise in one off designs have already produced bespoke Tour de France and festive rings so this time they have got together with local laser cutting company The Laser Hive for the opportunity to create their very own festival range.
Element's Nick Shields came up with six designs in three colours and three sizes costing just £2 each, or a set of 3 for £5. Element are covering the cost of producing these rings, so all they ask of you is to buy your favourites and spread the word as all proceeds go to the festival.
Element's Caroline Kindy said, "We were invited to meet Helen Meller and her team of volunteers at Organic House to talk about the successes and highlights of the 2014 festival.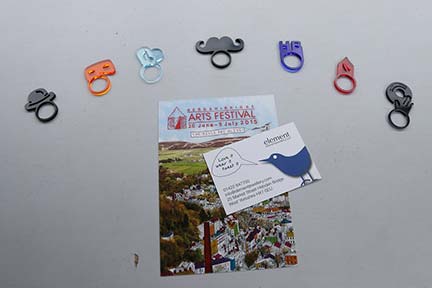 "We were so inspired by what they had planned for 2015 we really wanted to help. So the most obvious way was to do what we do best and produce a series of Festival Rings that would help to raise funds for one of Yorkshire's longest running arts festivals with a reputation for delivering big names in a local setting."
The rings will be available from Element Jewellery on Market Street, the Town Hall and the Tourist Information Centre from May 14th.
Once you've got your rings on then pop round to Zeitgeist Hair who are running their very own fringe festival.
The boutique salon, on Carlton Street, is offering complimentary fringe trims and fringe restyles throughout the festival, with expert guidance on suitability for your face shape, personality and hair type.
To help festival fans look their best , Zeitgeist's Sassoon-trained colour specialists are offering their own fringe benefits – just £15 for a cutting-edge technique which places colour strategically and beautifully through your new fringe.
New clients will also enjoy a £10 discount on full cut and styles during the festival - with fringes strictly optional! – and all you have to do is simply quote FRINGE FESTIVAL at the time of booking. Telephone Zeitgeist on 01422 844974.
The festival board have been delighted by the strong response from the local business community to supporting its 2015 progamme.
Artistic Director Helen Meller said, "There is absolutely no way we could put on the range of community events we do without the support of businesses like Element and Zeitgeist who always come up with such creative ideas to help us."
Previously, the Festival on the HebWeb