Young arts producers win national awards
Thursday, 20 November 2014
The teenage producers behind this summer's #Yourfest in Calder Holmes Park (see HebWeb News, July 2014) have picked up nationally recognised Arts Awards for their innovative work.
#Yourfest was part of the annual Hebden Bridge Arts Festival and the team, who are all Calder High School pupils, worked with experienced youth producer Rachel Hawthorn to create their event from scratch.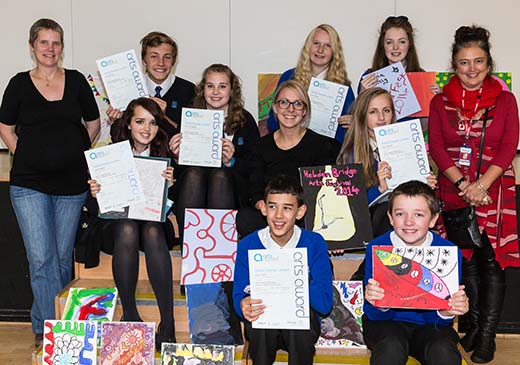 The budding producers curated an all day festival featuring live music from local bands, a chance to create their own masterpiece in the open access arts tent with an introduction to circus skills session.
Their hard work paid off as Samuel Bell, Lauren Ward and Harriet Walton picked up silver awards while Esme Heny, Edie Murray, Ella Farmer, Owen Bell, Charlie Hetherington, Molly Wilson, Jenna Naylor and Isobel Owen won bronze awards.
Their work over several months in their own time, was evaluated throughout the planning and staging of the festival. The team's portfolios were then independently reviewed before they were awarded their awards which can count toward university entry.
Arts Festival Director Helen Meller said told the HebWeb, "Every arts festival wants to leave a legacy behind it and what better way to do that than encouraging the next generation of producers by supporting them to create their own festival.
"Our whole board were impressed with not only the energy of the team, but their creativity too, which resulted in a professionally staged event that attracted a lot of young people on the day.
"We also wanted them to work towards a nationally recognised awards that will help them in whatever direction they decided to take in the future, but we hope they will stay in the arts because they all have massive potential to do something special."
The Arts Awards programme was supported by Cape UK, Cooperative Membership, Hebden Royd Town Council and sponsored by local employer Thomson Reuters, who also offered silver award winner Samuel Bell work invaluable experience in their London office to help him pursue his journalistic ambitions.
Thomson Reuter's Head of Content Operations, Miles Hutchinson said, "The Festival brought an incredible buzz to the whole area this year and it's great that it was able to reach out to young people, which is something I'm really pleased we were able to help make happen through the Young Producers initiative .
"We're delighted to continue our support for the Festival in 2015, and look forward to what will no doubt be another exciting programme!"
Previously, the Festival on the HebWeb