Thursday, 21 January 2016
Town Hall Flood Recovery Meeting
The Hebden Bridge Flood Recovery Public Meeting organised by the Hebden Bridge Partnership took place on Saturday 16th January and packed out the Waterfront Hall.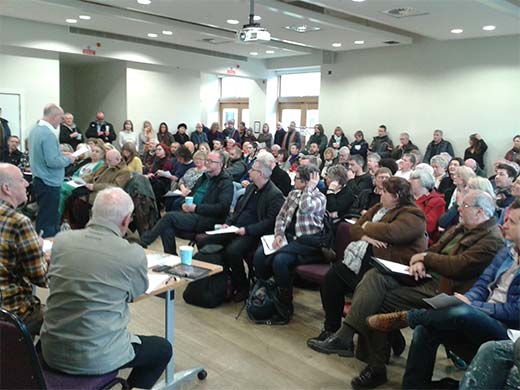 Among the issues discussed was insurance. Households may look forward to benefitting from the Flood Re scheme to be introduced in April. Businesses will not and a campaign to include businesses in the scheme needs support.
Community insurance is being explored as an option by the Hebden Bridge Partnership.
Flood Recovery: Public Meeting
Monday, 4 January 2016
Saturday January 16th 11.00 till 1.00
Hebden Bridge Town Hall (Venue tbc)
The Hebden Bridge Partnership has called this meeting jointly with the Hebdenroyd Town Council and the Hebden Bridge Business Forum.
The agenda will be focused on communicating information which will help local residents, community organisations and businesses affected by the floods, and which will help rebuild our local economy.
The meeting is not called to discuss future flood defence/flood alleviation work: we understand that Friends of the Earth will be holding a public meeting focused on this on Thursday 21st January 7-9.30pm, Birchcliffe Centre. More details soon.
Hebden Bridge Community Association: Speaker tbc : Supporting people in the immediate aftermath of the flood.
Calderdale Council: Mark Thompson, Director Economy and Environment: CMBC financial support to business and the community.
Community Foundation for Calderdale: Steve Duncan, Chief Executive. Fund raising and support to the Valley.
Calder Valley Business Recovery Team: Giles Dring, Hebden Bridge Business Forum. The needs of local business.
Insurance Services: Speaker to be confirmed. Insurance Re and the flood.
(There will be opportunity for announcements and general questions and answers but officers will be available after the meeting to address individual personal and business issues)