The Impact of the Boxing Day Floods on Hebden Bridge's Economy
Friday, 8 January 2016
Eighty percent of town centre shops, cafes, pubs, services hit by the flood is the headline of this Report on the Impact of the Floods on the Economy of Hebden Bridge produced by the Hebden Bridge Partnership. Outside the centre both BeeHive Mill which house many small companies and Wireform were badly hit. Wireform is to close.
The report notes that on 6th January over 60% of the affected businesses were closed including 11 out of the town's 15 public houses, bars or social clubs, 10 out of 17 of the town's cafes and 9 out of the 14 restaurants or fast food establishments. All Banks and the Post Office remained shut.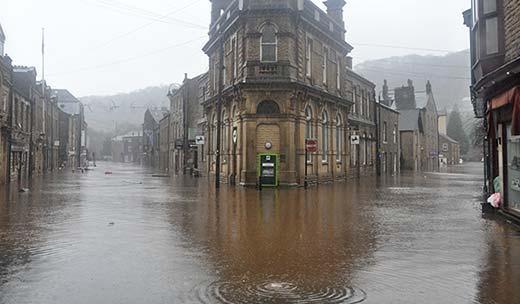 A key issue to be addressed is that of insurance. Many of the businesses in the town will have to spend their own money to re establish their business either because:
They have no insurance cover because of refusal by insurance companies
They have very large excess payments linked to their cover
Where insured the insurance covers like for like and does not cover the additional costs in ensuring the premises are refurbished in flood resistant ways (stone floors, waterproof plaster, high electrics etc)
The report notes that while processes seem to be in place to start rescuing Hebden Bridge business (the CMBC grant and the B for C crowdfunding), the problem would seem to be the scale of the costs for some uninsured businesses are nowhere near being met by the funds currently available.
One conclusion the Hebden Bridge Partnership report makes is that Hebden Royd Town Council should be making a big shout both to Calderdale and Yorkshire and Government for more funds. The fact that almost the whole of the town centre (both Hebden Bridge and Mytholmroyd) has been affected badly is unique to the Calder Valley, and unique to Yorkshire.
The report was written not to spread doom and gloom but as a contribution to raise the profile of Hebden Bridge in the clamour for more flood rescue funds. Significantly the Director of Economy and Environment for Calderdale thanked the Hebden Bridge Partnership "very much for this timely and thought provoking report".