After the floods: at the Town Hall hub
Tuesday, 12 January 2016
Following the Boxing Day flood, The Town Hall, one of the first community-owned town halls in the country and run by Hebden Bridge Community Association, opened its doors to become a flood hub for the town.
Although its own cellars had flooded, the building was open continuously for the first 48 hours and for many days afterwards. It's been able to operate as a flood relief centre thanks to the help of hundreds of dedicated volunteers and generous donations of food, cleaning supplies and specialist equipment from individuals, voluntary groups and businesses as well as support from Calderdale Council staff.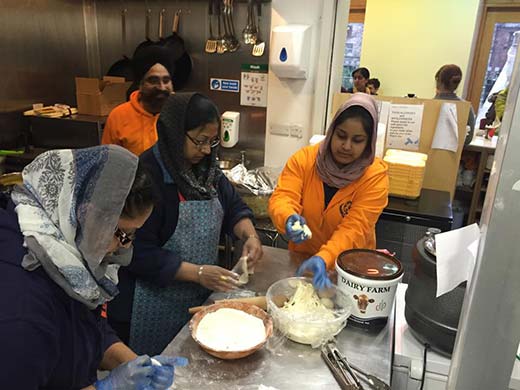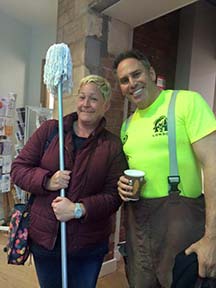 Based at the Town Hall, an amazing team of volunteers achieved the following:
Served over 20,000 free hot drinks and over 4000 free hot meals (with many of the meals were provided by Sikh and Muslim volunteering groups including Khalsa Aid)
(Photo right of Briony from Leeds-and Tim from London based T2T. Photo: Miriam O'Keefe.)
Managed a food distribution point – distributing free food to those in need including donations from many individuals as well as businesses including Cooperative, Sainsbury's, Tesco, Asda and Marks and Spencer
Set up a central point for cleaning supplies where people can collect free cleaning items
Set up a central database to coordinate and deploy a volunteer army of well over 750 people – many with highly specialist skills including structural engineers, electricians, gas engineers, telecoms – to help clean and fix our town.
Sourced, coordinated and deployed over 50 volunteer van drivers to assist people affected by the floods.
Helped people fill in application forms for emergency grants from Community Foundation for Calderdale
Offered free mobile phone charging and wifi access.
Coordinated the distribution of essential specialist equipment such as water pumps, dehumidifiers and heaters to people in need.
Organised space in our building for Citizens Advice and Calderdale Council to give advice to those affected by the flood.
Offered a quiet space with free massages and reflexology sessions.
Rachel Rickards is Chair of the Hebden Bridge Community Association, the charity that manages The Town Hall, Hebden Bridge. She told the HebWeb, "The response of our community to the floods of 2015 has been truly amazing. People of all backgrounds, of all faith groups have all joined with us to provide essential help and support for people affected by the floods. We are proud of our town and its community. We are humbled by your kindness, generosity and resilience. Thank you from the bottom of our hearts.
"This is a community building - your town hall - and your efforts have shown what can be achieved when a strong community works together."