Tales along the Packhorse Way
Hebden Bridge History Society meeting report.
Speaker: John Billingsley
Monday, 18 January 2016
As they crossed the Pennines between Burnley and Halifax the old Packhorse men were guided on their way by the Packhorse Litany, and John Billingsley used the old rhyme to take his audience at the Hebden Bridge Local History Society on a journey across the hills. John is the author of six books on local folklore, and has collected many of the tales told about the places passed along the Long Causeway, this 'bleak and comfortless road.'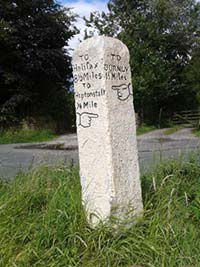 Burnley for ready money,
Mereclough nooa trust,
Yo tekken a peep at Stirperden,
But Ca'at Kebs yo must.
BlackshawYed for travellers,
An Heptonstall for trust,
Hepton Brig for landladies,
And Midgely on the Moor.
Luddenden's a warm shop,
Roylehead's varry cold,
And if yo go to Halifax
Yo mun bi varry bold.
Many of the stories seem to feature encounters with the devil or his creatures, with ghosts, love, sex and murder also contributing to the entertainment.
Burnley might have been the place for 'ready money' but also had a story of St Peter's pigs, who wrecked work on the new church by moving materials to a new site – whether their message was 'from God or something else' the church was built in the spot they preferred. The devil also made an appearance as Striker, a huge black dog with red eyes, who could terrify travellers in Lancashire, but was himself scared off by Yorkshire folk! Making the climb from Mereclough you might hear of deals with the devil, or the romantic story of Maiden Cross, where the ghost of a young woman whose lover was lost in the Civil War would wait for him to return.
Stiperden was border country between Lancashire and Yorkshire, and borders were also believed to be the threshold to a third dimension. This superstition led to the heads of beasts which had died of sickness being taken here in the hope that the disease would be carried away. Kebs was the familiar name of the Sportsman's Arms which had its own ghost lady in a long dress. Ghost stories persist, and sightings of Blackshaw Head's ghost dog walker, known as Ernest, have been reported right up to modern times.
Hebden Bridge's landladies offered a night's rest for the travellers, as well as an opportunity for fighting between the lads of Halifax and Heptonstall who would traditionally meet for a rumble at the foot of the Buttress, close to the bridge where the Roundheads and Cavaliers clashed.
More stories arise from the moorland landscape of Midgley: the suicide buried without rites who refused to rest in peace, and the milk maid who lost her way on the moors and died near the stoop which was then named Churn Milk Joan. Luddenden offered hospitality at the Lord Nelson, famous both for being the first lending library and for being Bramwell Bronte's local.
Fear of Halifax was probably justified, as the home of the Gibbet. Lack of a qualified hangman meant that the town got permission to use its own guillotine to execute those who offended. It was argued that having valuable cloth stretched out in the tenter fields made Halifax merchants particularly susceptible to theft, and a deterrent was necessary. Inevitably there are gruesome stories, one recorded by Daniel Defoe, of what happened when the head went flying off.
We can all appreciate a good gory story on a cold winter's night, especially when told with such vitality and humour. We might dismiss them as a just  'little bit Yorkshire', but as John pointed out, these stories form part of our folk culture and history, and many have roots of truth.
The next meeting of Hebden Bridge Local History Society at the Methodist Church Hebden Bridge will be on Wednesday 27th January, starting at 7.30. Peter Jeffery will tell the story of the restoration of the unique Cornholme Organ. All welcome. Please see website for details of other talks.
With thanks to Sheila Graham for this report