Record buyers save local music shop
Tuesday, 26 January 2016
Record buyers from across the north converged on a one off record fair in Hebden Bridge raising £5000 to save Muse Music that was facing closure after the devastating Boxing Day flood.
The collectors flocked into the Trades Club to buy rare records donated by rock stars and record companies to help Sid Jones, who has been running Muse for over 20 years, and his wife Valeen who runs Love Café in their Market Street shop.
The couple had invested thousands to defend their business after the 2012 flood, but were left powerless when a torrent of water smashed through their defences destroying all their stock and flooding the café,
Valeen Jones said, "We were just completely devastated and we couldn't believe three and a half years after one flood that it could happen again, and the extent of it, as we had five feet of water in the shop. It was total devastation so we were in total shock and broken by it.
"This event was amazing and we had no idea the amount of love people have shown. I was talking to Sid about how we feel now compared to three weeks ago when we were totally broken, but now we feel like there is a future again, so we couldn't not open now."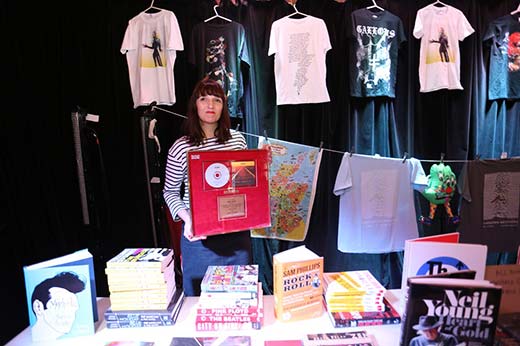 The couple were so devastated by the flood they were considering closing their doors for good but when local music fans Mal Campbell, who books bands at the Trades, music journalist Ben Myers and poet Adelle Stripe heard that Muse might be finished they decided to act.
They wrote to all the bands who had played at the club and their contacts in the music industry asking for donations for a record fair.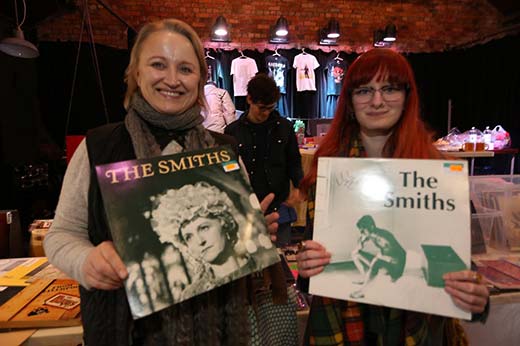 Former Smiths drummer Mike Joyce was first to respond sending rare signed albums records by his iconic indie band and Icelandic singer Bjork sent records with a handwritten letter of support.
After that the organisers received signed records from Tracey Thorn, Franz Ferdinand, Sparks, Hot Chip, Enter Shikari and Wah's Pete Wylie. Ben was getting three deliveries a day as record companies like Heavenly, Domino, One Little Indian and rock magazine Mojo send aid packages of vinyl rarities.
Sid and Valeen joined a team of local volunteers who ran the stalls at the fair, but as he surveyed a packed hall the veteran record shop owner was delighted that so many people had turned up to help him get back on his feet.
Sid Jones said, "I had no idea people cared so much and it's been completely overwhelming that people have donated, not just in Hebden Bridge, but across the UK and in other countries
"It is just what we needed as we lost everything as Valeen lost loads of kitchen equipment and I lost all my stock, the hi-fi, irreplaceable reference books and an estimate of what the flood cost is £40000. We had no flood insurance so this record fair will help enormously.
"It would appear that people love what I do, the shop and the great team that Valeen and I are together."
Sid and Valeen say that the proceeds from the record fair will help their plans to reopen Muse Music and Love Café in April.