Wednesday, 24 February 2016
Handmade Parade Spark Day: ideas needed for Summer Spectacular
Would you like to see Parrots amassing in St George's Square, Bridge Gate awash with crazy inventions or Calder Holmes Park becoming a prehistoric hub? If so, now is the chance to make it happen.
Handmade Parade are holding a Spark Day on Saturday 27 February from 1.00pm-2.30pm at the parade workshops at Unit 5 Victoria Works, Victoria Road, Hebden Bridge.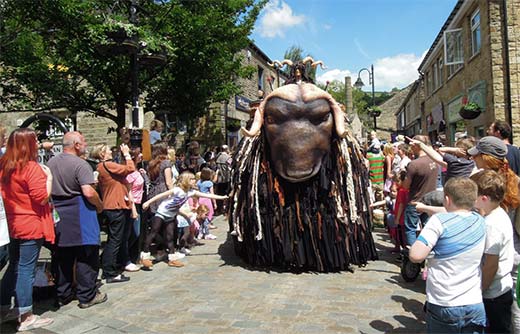 Sunday 26 June will see the ninth annual Handmade Parade as in previous years the team will be chosen with input from the public, so please get your thinking caps on and come along to the Spark Day where you'll be able to draw or write your ideas for what you would like to see in this year's parade.
Everyone is welcome and we'd like as many people as possible to come along with their bright ideas – the crazier the better!
Artistic Director of Handmade Parade, Andrew Kim, invites you to join in, saying, "Spark Day is critical for our team of parade artists to feel and respond to the pulse of Hebden. What's on our minds this year? What's the thing we really need to see dancing down our streets? We're blessed to be in such a creative and engaged community—this is your chance to get in on the ground floor and make it your parade".
If anyone can't attend the Spark Day but would like to contribute, you can email your ideas to info@handmadeparade.co.uk or post them to Handmade Parade, Unit 5 Victoria Works, Victoria Road, Hebden Bridge, HX7 8LN.
This year's Hebden Bridge Handmade Parade is supported by Arts Council England, Hebden Royd Town Council and Yorkshire Festival and is working in partnership with the Hebden Bridge Arts Festival and Calderdale Council.
For more information about this year's parade please go to their website.
See also:
HebWeb News: Announcing the 9th Annual Hebden Bridge Handmade Parade! 3 Feb 2016
Previous coverage of the Handmade Parade on the HebWeb