Our Twin Towns make generous donations to flood relief work.
Tuesday, 29 March 2016
As soon as St Pol-sur-Ternoise and Warstein (Hebden Bridge and Mytholmroyd's twin towns) heard about the terrible Boxing Day floods they began fund raising for flood relief work in Calderdale and forwarding their contributions both from their Town Councils and their twinning associations. Their combined contributions so far to the Calderdale Flood Relief fund stand at €3,820
Didier Hochart, well-know to many in Hebden Bridge, from St Pol has advised that the Town Council of St Pol is now making a further official contribution of €2,000 specifically for post flood repairs to the Hebden Bridge Picture House. Our friends from St Pol have often taken part in events in the Picture House while visiting Hebden Bridge and have a particular affection for it, especially as St Pol also has their own municipal cinema. The voluntary organisation the Friends of the Picture House will be accepting the donation on behalf of the Picture House.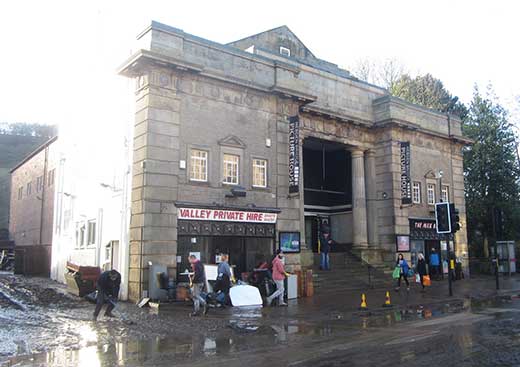 After initial discussions between the Picture House Manager, the Town Council and the Friends of the Picture House it is proposed that the donation from St Pol would be best used towards the refurbishment of the foyer. Paul Knights (Chair of the Friends of the Hebden Bridge Picture House) will be keeping Didier Hochart informed on the particular items on which the donation will be focused. He is looking forward very much to welcoming visitors from St Pol to the Picture House when it is fully restored.