Monday, 9 May 2016

Hebden Bridge Arts Festival launches Trouser Town theme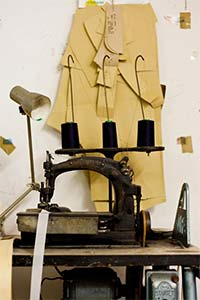 Hebden Bridge Arts Festival have announced more than 14 events focusing on Trouser Town which is this year's theme.
The success of HebTro Co's new range of handmade pants has inspired a range of events looking back to when local mills produced thousands of pairs of pants every day and organisers hope will be a welcome chance to think about what the future holds post floods.
Festival supporters at the launch event in the Town Hall also signed up for Who Lived In My Street project - supported the Heritage Lottery Fund - to find out who live in their house in 1916 as part of the nation's commemoration of the First World War. They will be able to visit local archives to find out more about the lives of local workers living here a century ago and the festival will create a unique blue plaque that can be displayed in house windows to remember those who made the town's fortune.
In the Town Hall, festivals-goers can visit the She Wear, the Trousers Exhibition recalling the history of women wearing trousers using fashion photos from the Daily Herald newspaper from the collection of the National Media Museum in Bradford.
Floating arts centre Crafts Afloat will moor in the marina on Saturday 26 June where crafty folk can make Trouser Town Bunting and the next day Making Through is a specially commissioned promenade performance taking a stroll through the town's textile history.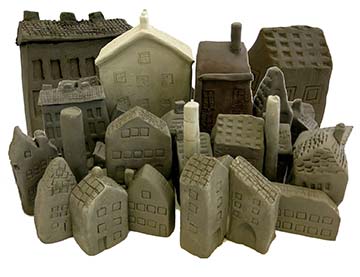 Families can help Build The Town From Clay at a free session in at Northlight Arts Centre on Saturday 25 June and the results will be displayed later in the year. On the same day in Northlight they can help printmakers Ruth Fettis and Vic Cruz to make special pairs of trousers. The popular Café Culture is back with a Make Do and Mend presentation by dressmaker Meridith Towne on Thursday 30 June looking at women's contribution to the war effort during World War One.
Another festival highlight is the now traditional Street Performance events as some of the UK's best performers working alongside local talent take over St George's Square and the Town hall for two days of free mayhem.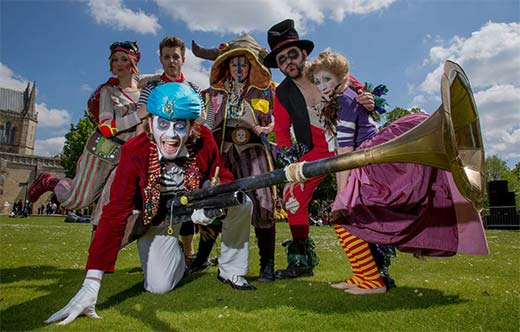 On Saturday 2 July, the Imaginary Menagerie bring their collection of surreal exhibits to town alongside Saxocalypse, George Orange, John Hicks and AJ Circus. The next day the Wheelhouse show off their unique acrobatic skills, Glinda the Good Witch spreads some much needed good cheer and back by popular demand are local pop/brass combo Mr Wilson's Second Liners who will be joined by pupils from Calder High School for a spectacular musical finale.
Arts Festival Artistic Director Helen Meller said, "The response to the Trouser Town theme from the community has been amazing so in the year that a new company sprang up producing pants it seemed appropriate to create a series of events reflecting on the massive impact of the town's textile trade.
"Over its 22 year history the festival has continually evolved which is why we are introducing more projects like Who Lived In My Street that will support our intention to work in the town throughout the year. I hope local people will love finding out about the people who lived rich and often hard lives in our town a century ago.
"This has been a tough few months for Hebden Bridge so we've also included some events that will inform our town's often fraught relationship with water which is the theme of our 2017 festival."
Hebden Bridge Arts Festival runs from Friday 24 June to 3 Sunday July.
More info at www.hebdenbridgeartsfestival.co.uk and the box office is open daily at Hebden Bridge Town Hall.