Convoy to Calais
Monday, 13 June 2016
Some people from Blackshaw Head will be going to the refugee camps in Northern France with donations from local people in Calderdale.

This trip is part of a national convoy that will meet for a rally at Whitehall in London.
Depart London: Saturday June 18th

The convoy leaves London on Saturday June 18th in the morning.

Donations will be given to L'auberge des migrants and
Care4Calais for both the Calais and Grande Synthe (Dunkerque)
Refugee Camps.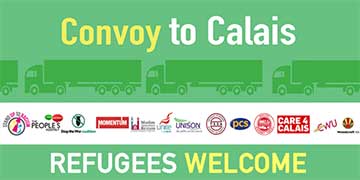 Priorty Needs

Food
Both charities are running very low on food supplies – ideas for donations are:

1kg sugar; 1kg rice; tinned fish (tuna, sardines, mackerel); biscuit packets; tinned goods (tomatoes, chickpeas, kidney beans); tea and coffee; 750g salt; dried fruit and nuts; tinned fruit and veg; vegetable stock cubes.
Please make sure tins have ring pull tops. Make sure everything is in date!

Clothing
Both charities are currently oversupplied with children's clothes and toys, however are experiencing a shortfall of teenage boys' clothes.
(13-17 years old - see below).

Women
Boots/ shoes up to size 39 (no heels!); smaller cup size bras (up to
36C); socks & underwear; warm, waterproof coats (s & m);
waterproof trousers; trousers jeans and tracksuit bottoms (S, M, L);
long-sleeved tops, jumpers and hoodies (S, M).

Men
Trainers especially sizes 41 to 43, and ideally black; waterproof walking boots high ankle especially sizes 41 to 43; gloves; small trousers (size 28 and 30); small and medium jumpers; waterproof trousers; waterproof coats; tracksuit bottoms (S, M); long-sleeved tops, jumpers and hoodies (S); socks & underwear.
Youth (boys)
Tracksuit bottoms (ages 12-17); jeans (ages 12-17); underwear (ages 12-17 or men's size small); hoodies (S,M); trainers (ideally black) sizes 40, 41, 42, 43; socks & underwear.

Hygiene items
Saline solution; toilet roll; razors; shaving cream; deodorant; baby wipes; shampoo; conditioner; moisturiser; tissues.

Other
Back packs (small for grab bags, large for possessions); 130l strong bin bags; thick rubber bands; fire extinguishers; goody bags of hats, gloves and scarves; foil blankets (to go underneath sleeping mats); blankets; sleeping bags; tarpaulins; camp mats; wind up/ solar torches and lanterns;

As you will appreciate donations should be in good useable condition.

Deadline for donations

We will need your donations by Tuesday 14th June

How do you get your donations to us ?

If you want us to collect your donation please phone or text us (Phone numbers below).

Collection points

There are collection points at Blackshaw Head Methodist Church (the Chapel), wheeler bins in the car park of Catholic Church of the Good Shepherd, Mythomroyd, HX7 5EU and at Laura & Finn, Warcock Hill Barn, Long Causeway, Blackshaw Head, HX77JB:

We have booked a van, paid for ferry and will need petrol plus two overnight stays. If you want to give a donation towards these costs or to buy more food to give to the asylum seekers in France you can do this by giving us the cash or make an online donation through Local Giving

If you want to take part in the Convoy to Calais either:

Use this link or

You can phone John or Pat Kemp on 07745 910784 or 07712 047059 or Finn Jensen on 01422 846863 or on 07511 213449.