What is being done to prevent more floods, 6 months on?
Monday, 27 June 2016
Saturday's Alternative Christmas and Sunday's Hand-Made Parade has shown that most (although not yet all) of Hebden Bridge has recovered from the floods and visitors have once again flocked here for two magical days out. The Heart Gallery is open, Waites under new management, but with the same pie recipes, is reopening on Thursday.
But what is being done by the Environment Agency to prevent or reduce the impact of another flood in Hebden Bridge?
Actually quite a lot… but you would never know it from their continued failure to communicate effectively or widely. Two stakeholder consultation processes are now working that directly affect Hebden Bridge.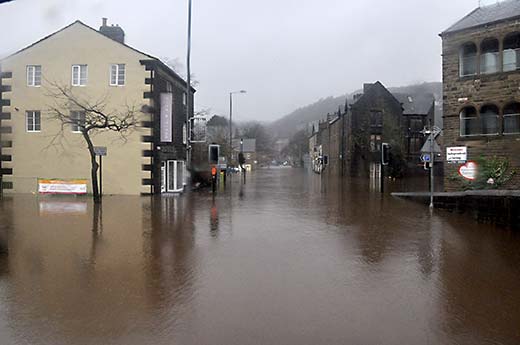 Catchment Plan
The first is a very inclusive stakeholder and community engagement process which will design the Calder Catchment flood reduction and alleviation plan to be produced by October 2016. Here is an outline of its timetable of work:
Many organisations with an interest in flood prevention have been invited to participate in the planning alongside the Environment Agency, Calderdale, Yorkshire Water and other agencies. The Hebden Bridge Partnership, Hebden Royd Town Council, Source, Calder Future, Slotheflo and other groups attended the first meeting on June 18th. Three working groups are now at work covering
a) Natural Flood Management, Strengthening Defences and Use of Existing Infrastructure
b) Community Resilience and Maintenance
c) Governance
Hebden Bridge Defences
The second focuses on the work being done by the Environment Agency to plan alternative scenarios for strengthened river defences on the Calder and Hebden Water. The Hebden Bridge Partnership, along with the Hebden Royd Town Council, Hebden Bridge Business Forum, Hebden Bridge Community Association and the Governing Body of local affected schools have been invited to participate. As these processes develop there will be important issues to be addressed including:
a) the balance between natural flood management and engineered solutions
b) the legal duties of moorland owners and reservoir authorities to reduce flood risks,
c) re-engineering of the confluence of the two rivers in Hebden Bridge,
d) how to reconcile the twin aims of keeping the rivers inside their banks and using the rivers, in particular the Hebden Water, as an amenity for residents and visitors.
The Hebden Bridge Partnership will do its bit to keep you informed of these developments. As a first step the next Hebden Bridge Partnership Public Meeting on 4th July will be addressed by the Environment Agency and provide information about both of these processes. (See Whats on for details)