After the floods: latest news, proposals, options and dates
Tuesday, 5 July 2016
At a public meeting of the Hebden Bridge Partnership on July 4th spokespersons for the Environment Agency shared their thinking about how they see the development of work to progress Flood Prevention and Flood Defenses for Hebden Bridge.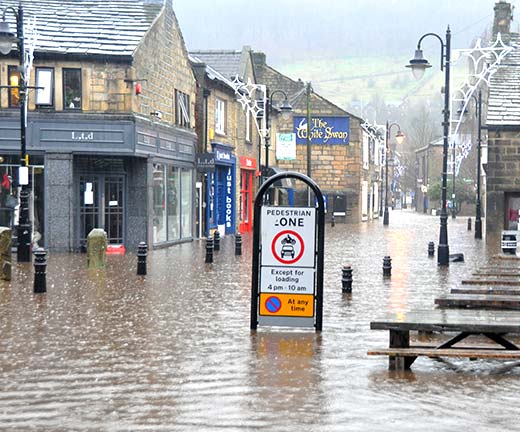 Flood walls: factors to consider
Simon Byrne who has just been appointed to plan the Hebden Bridge work explained that the height of any built flood defenses (walls) along the Calder and Hebden Water would depend on a number of factors. One would be the reduction in flow anticipated due to new Natural Flood Management steps to be taken on the moors and uplands.
Second would be whether agreement could be reached with Yorkshire Water to reduce the levels of the reservoirs if flooding was predicted. The fact that 46% of all catchment water was channeled through the reservoir system might make this a big win.
Third was whether hydrology modelling being undertaken would demonstrate that a re-engineering of the confluence of the Calder and Hebden Water would reduce river back-up. If it did the a huge culvert might be built under Riverside School playground.
The likelihood would be that some level of walls might still need to be built along the rivers. He acknowledged that trying to balance the need to access Hebden Water as an amenity versus keeping it in its banks would require creative thinking.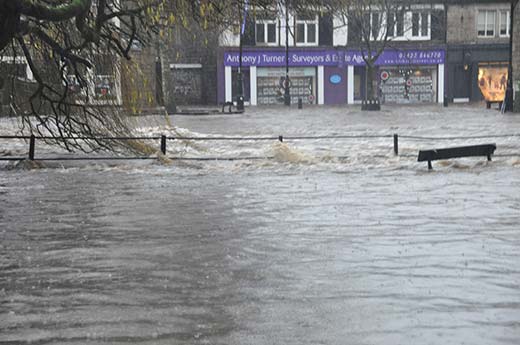 Consultation at all stages promised
The meeting was reassured that detailed plans for town involvement at all stages was planned. An information point will be set up in the new Flood shop by the cinema opening on Thursdays from July 7th. A stakeholder group consisting of the Hebden Royd Town Council, Hebden Bridge Partnership, Hebden Bridge Business Forum, Riverside School and other organisations would meet regularly starting on August 2nd. Public consultation events at each stage was envisaged until we got it right. Any engineering work was likely to begin in 2017.
More generally it has to be said that it is hard to keep abreast of and well informed about who is doing what to reduce the risk of floods and help us cope with them.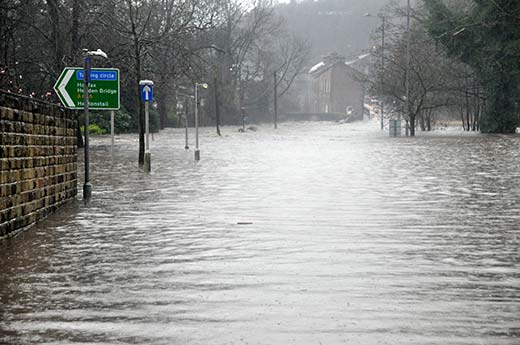 Who is in charge?
Ultimate responsibility within Calderdale for this work seems to rest with the Calderdale Flood Recovery and Resilience Board (CFRRB), made up of Calderdale, Environment Agency, Yorkshire Water, Canal and River Trust and other stakeholders. Here are the minutes of the June 10th Meeting. From the next regular meeting on September 16th it will meet in public, something the Hebden Bridge Partnership has pressed for. Each agency can use its powers to contribute to action.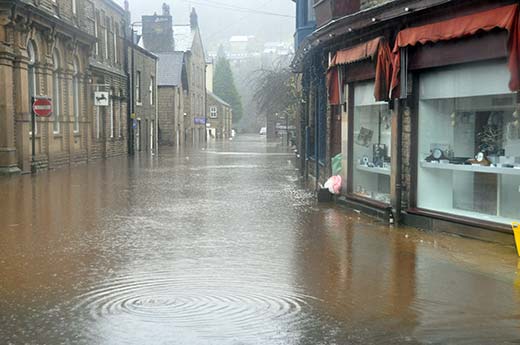 Policy documents being prepared
At present and confusingly, two policy documents addressing the flooding issues are being developed and will be reported to this Calderdale Flood Recovery and Resilience Board.
The first is the Calderdale Flood Risk Management Strategy which is the one now going out to consultation with a Hebden Bridge open meeting on 20th July. See the document here. (Currently the first item on that blog)
The second is the Environment Agency led Calderdale Catchment Plan currently being produced by a wide range of partners including the members of the Calderdale Flood Partnership and community organisations, which will report in October. See also this page. (Currently the third item on that blog). Within the timetable of work is a stage in September where the draft will go out to a brief period of public consultation before being signed off at Calderdale Flood Recovery and Resilience Board. (This Catchment Plan is referred to within the Flood Risk Management Strategy at para. 2.7 ).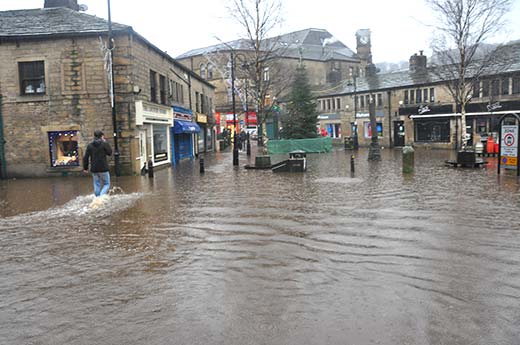 Getting involved
At the Hebden Bridge Partnership meeting on 4th July, Helen Batt, responsible within the Environment Agency for this work, explained how interested people could get involved now. The Hebden Bridge Partnership is engaged in this process.
At the same time the Calderdale Flood Commission will report on July 12th with a large number of recommendations which it hopes will be embedded within the Calderdale Catchment Plan and in turn in the CMBC Flood Risk Management Strategy.
Within both the CMBC Flood Risk Management Strategy and the Calderdale Catchment Plan is provision for the possible hard engineering work on flood defenses within Hebden described above.