Warstein flood benefit concert funds go to Junior Band
Monday, 18 July 2016
Warstein donates the money raised from the benefit concert with The Band of the Royal Logistics Corps to help the Hebden Bridge Junior Band recover from the damage caused by the floods.
On the 28th of May this year the Band of the Royal Logistics Corps gave a wonderful benefit concert in Warstein as part of the Jubilee Weekend celebrating 20 years of twinning between Warstein and Hebden Royd. Warstein's twinning society (Warsteiner Europafreunde or WEF) had arranged the concert which raised €2,626 (£2,000) for flood relief in Hebden Royd.
After some discussion between the Twinning Societies and the Town Councils it was proposed that the donation should be made to assist the Hebden Bridge Junior Band recover from the damage they suffered in the floods. They are still in temporary accommodation, and they have lost all their sheet music, their uniforms and some instruments. Sergeant John Storey who was a soloist at the concert had been a founder member of the Junior Band when young.
President of the WEF Birgit Wüllner said "Everybody thought this (the proposed donation) was a wonderful idea which represents all we want: common engagement of the two towns and the twinning societies as well as a purpose which shows our activities….The Hebden Bridge Junior Band is well known in Warstein and always welcome".
On the evening of Thursday 7th July the Mayor of Hebden Royd Tony Hodgins and President of the Hebden Bridge Twinning Society David Parry presented a cheque for £2,000 at a meeting of the band.  It was received by Mary Johnson the Treasurer and Liz Glassbrook the Chair of Junior band. Mary Johnson said "We were all amazed at the cheque – it is more than generous!"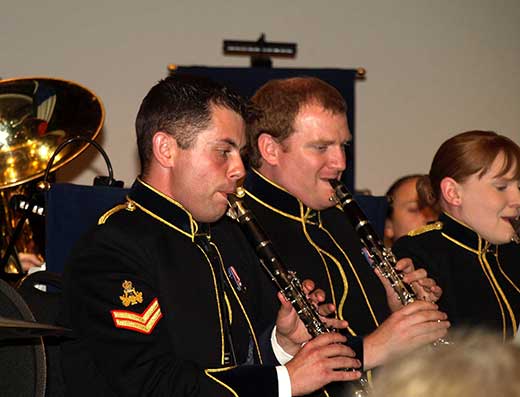 Please remember if you want to join our twinning activities our contact information is shown below.
Contacts:

Jane Jackson:  Secretary/Communications Officer, HBTS: janeson79@gmail.com ; 01422 846 081; 07770 657 496)
David Parry: President HBTS:  davidjohnparry@btinternet.com; 01422 845 632, 07900 318 244. 
Details are also available on our website and on our Facebook Page
Previously, on the HebWeb
Warstein concert raises funds for flood relief - 1 June 2016