Friday, 6 January 2017

Walking through Hebden Bridge's past
Award winning local storyteller Ursula Holden Gill is leading a free story walk celebrating the lives of people who lived in Hebden Bridge a century ago.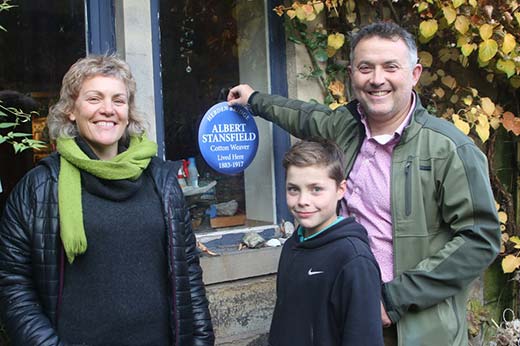 The walk is part of Hebden Bridge Arts Festival's lottery funded Who Lived in My Street 1916 project and the hour long walk starting at the Town Hall will discover how the Hole in t' Wall pub got its distinctive name, meet the ghosts of Garden Street, remember some shenanigans at the White Swan and visit local pub co-operative The Fox and Goose.
Arts Festival Artistic Director Helen Meller said, "We first worked with Ursula when she created the Gruesome and Grizzly tales of Hebden Bridge for us, and since then she's gone on to develop a national reputation as a story teller.
"So she was the perfect choice to lead this interactive and fun walk that will bring to life the people who lived and worked in our town a century ago. Ursula has really done her research and her unique style of story telling will both inform and entertain."
As well as the walk, the festival team are also busy producing 147 blue vinyl plaques that will be displayed across the town celebrating the lives of ordinary people who lived here at the mid-point of the Great War.
One plaque will commemorate footballer and royal fusilier Louis Armstrong of Windsor Road who was killed in action in 1916, and another remembers Hannah, Betsy Ellen and Edith Crabtree from Lees Road who were all machinists at Nutclough Mill.
Celebrated suffragette Lavinia Saltonstall who lived in Unity Street will also have a blue plague proudly displayed by the people who now live in the house she lived in a century ago as she fought for women to have the right to vote.
The After Alice photographic collective have also joined the project taking photos of the plaques over the coming weeks that will be added to the archive they are building up for future generations.
You can join Ursula Holden Gill's free walk starting at Hebden Bridge Town Hall on Sunday 15 January at 4pm for a 4.30pm start. The walk is suitable for all ages and is fully accessible, but wrap up warm as it is a mainly outdoor event.