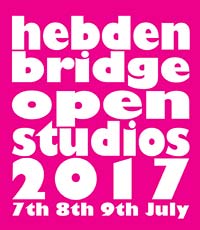 Call for Artists Hebden Bridge Open Studios 2017
Wednesday, 25 January 2017
Planning is already underway for the popular Open Studios event. This the event will take place on 7th,8th and 9th of July as part of the Hebden Bridge Open Weekend . We have joined forces with the Arts Festival Open Gardens team to create a dedicated weekend for both art lovers and horticultural fans.
Last year over 90 artists welcomed visitors into their studios and workshops. The Open Studios map is centered in Hebden Bridge and extends to Mytholmroyd, Old Town, Heptonstall and Todmorden. This is a fantastic opportunity to showcase the wealth of talent in our vibrant creative community.
Artists wishing to take part can download all the information and an application form from the website or email
Anyone needing assistance with the online application form can contact Helen Plant on 0783 7600 949.
Closing date for applications is the 20th February
Thanks to Lesley Lishman for this piece