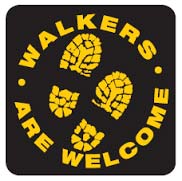 New leaflet with 3 Wadsworth Walks
Wednesday, 19 April 2017
Hebden Bridge Walkers Action have published a new walking leaflet with walks to Lumb Falls, Smeekin Pike, High Brown Knoll and Old Town. Each walk has a route out and back to Hebden Bridge with details about where to get refreshments on the way. Each walk has detailed directions and an extract of the OS map.
Ian Vickridge, Vice chair, said, "This has been a project we have wanted to do for some time. Hebden Bridge Visitor Centre get frequent enquiries about how to reach Lumb Falls and the other destinations. We are very grateful for funding from Calder Ward Forum, Wadsworth Parish Council and Metro. We also need to thank the many walkers who checked the directions and CROWS who have improved the routes."
The leaflet price £1 is available from Hebden Bridge and Todmorden Visitor Centres, Just Books, The Bookcase and Mountain Wild and on-line from www.heartofthepennines.org.uk/shop
Annual open get together
The leaflet is the latest initiative from the group in what has been a very busy year.
Hebden Bridge Walkers Action invite anyone interested in walking to come to an informal get together to hear about their activities, including the Heart of the Pennines project. At the same time, they would like help in planning what else needs doing. The get together is at the Stubbing Wharf, 7.30pm on Tuesday May 2nd. All welcome.