Tuesday, 13 June 2017
Handmade Parade's Sea of Dreams
International artists from the Greek Street Theatre Company Motus Terrae are working with local people to create astonishing street theatre work and leading advanced stilt walking classes to will accompany the 10th annual Hebden Bridge Handmade Parade.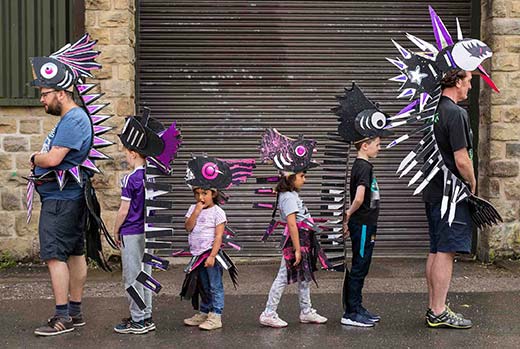 Thousands of people from across Yorkshire are expected to watch the 10th annual Handmade Parade when it takes to the streets of Hebden Bridge on Sunday 25th June.
Greek Artist Spyros, who recently arrived in Hebden Bridge to work with the parade team, said, "Both our countries are going through some challenging times at the moment... And for that reason, all the crazy art we are creating with the community, in Hebden Bridge's public space, it now makes more sense than ever... I am extremely grateful to be part of this amazing summer storm that is Handmade parade and I will be carrying the team's creative energy back home, where it is equally needed..."
This year's theme, Sea of Dreams, explores our dreams for the future and the nightmares which divide us. Artistic Director Andrew Kim said: "It's not too late to make your parade costumes or join Spyros' street theatre workshop or our dance and samba drumming classes. Costume workshops continue Saturdays, Sundays, Tuesday and Thursday until 22 June."
Read more on the Handmade Parade website