Councillor among volunteers helping to Slow the Flow
Tuesday, 4 July 2017
Josh Fenton-Glynn, Labour Councillor for Calder Ward, joined Slow the Flow volunteers in working in Hardcastle Crags to reduce flooding.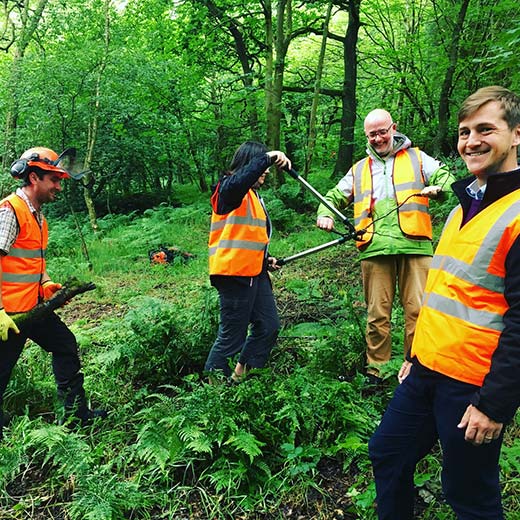 On Saturday, he joined volunteers in Hardcastle Crags who are working to slow the progress of water in waterways by placing natural wooden 'leaky dams' meaning that the peaks in water further down stream won't be as high, preventing flooding.

Josh told the HebWeb, "I've long been impressed by the work Slow the Flow do. They are a great example of what members of the community can do when thy get together and work to make a positive change.
"I understand they are looking for more volunteers, I would encourage more people to get involved, there are few nicer ways to spend a weekend with your family than doing a bit for our community in Hardcastle Crags. As a local Councillor I do what I can to support them to do the work they do.

"As a member of the flooding panel I don't believe one thing will solve flooding, but small differences we can make the better our chance of preventing disastrous impacts we have.

Adrian Horton of Slow The Flow Calderdale said, "We are working with people in our local community to reduce flooding. We have regular volunteering opportunities at weekends. Why not come and join us?

"We welcome the support of councillors from all parties and Josh has consistently offered us the support when we've needed it."
See also
HebWeb News: Nathan joins the battle to reduce flooding 3 July 2017
HebWeb News: Slow The Flow - Hardcastle Crags 27 April 2017