Sally Wainwright in conversation
Sunday, 24 September 2017
On Saturday evening (23 September), the renown playwright from Sowerby Bridge, Sally Wainwright, was in conversation with her former teacher, Jenny Gore for a benefit to raise money for the Little Theatre.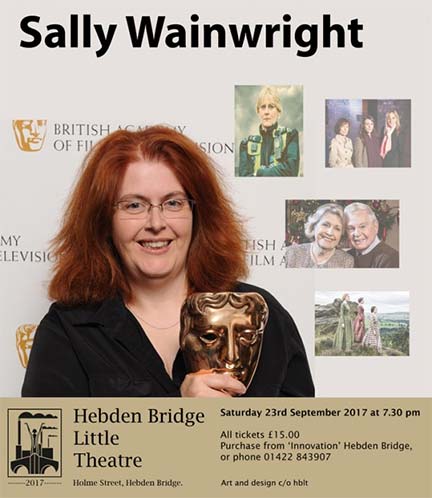 The packed theatre audience heard Jenny Gore reveal that she had taught Sally as a secondary school student at what was then Sowerby Bridge Grammar. Sally, she said, excelled at Art more than English.
Sally Wainwright's works include At Home with the Braithwaites, Scott and Bailey, Last Tango in Halifax, Unforgiven, Happy Valley and the story of the Brontë sisters and their brother, To Walk Invisible.
She revealed that the forthcoming TV series (BBC and HBO) on the life of Anne Lister will not now be showing until 2019. The drama is now going to be entitled Gentleman Jack and Anne Lister will be played by Suranne Jones who is currently starring in Dr Foster. This series will deal with just a small part of the Anne Lister story and will involve eight episodes. If successful, further series will be created.
Anne Lister - scholar, lesbian, diarist - owned and ran her Shibden Hall estate in Halifax. Her diaries run to four million words, much of it written in Anne's own secret code.
Sally Wainwright said of Anne Lister, "I love her!" She says that she feels so lucky to be the person dramatising her life. She emphasised that she wanted to try and deal with all the complexities of this remarkable 19th century woman, a woman who was phenomenally intelligent while at the same time knew that life was for living.
As reported in HebWeb News in March, the first few episodes of Gentleman Jack inspired by Nature's Domain by Mytholmroyd writer Jill Liddington, and published by Hebden Bridge publishers Pennine Pens.
Sally Wainwright told how she had written from a very early age, written dialogue. She never really took to reading when she was younger so wonders if she took to writing to make up for it, knowing reading was important.
She writes with loads of full stops. She wants the actors to know exactly where she wants them to pause.
On being asked about happy endings, Sally Wainwright pointed out that drama doesn't happen when people are happily in love. Things need to go wrong.
When asked about the difference of writing contemporary drama as compared with historical drama, she explained that the historical drama takes so much more time because there is so much information which needs to be assimilated to get things right. Nevertheless, the writer still has to make things up. For example, there's nothing much recorded about the lives of Anne Lister's tenants so that's where the imagination is needed.
Being a writer, she came to hate directors taking over her scripts. So she was really pleased at the opportunity to take over the role of being her own director, directing her own scripts. This gives her so much more more control over her creations. Her directing debut came with episode four of Happy Valley. As she had been warned, she felt totally out of her depth for the first three days but Sarah Lancashire was very supportive.
George Murphy has commented on the HebWeb Forum, "A highlight for me was Wainwright's comments on the psychology of officers and offenders at the time of arrest and how her depiction of offenders in a state of shock has been informed by her discussions with former officers. A writer in the audience commented on the new acceptance of 'northern' dialogue amongst overseas audiences resulting from Wainwright's work. It was interesting to hear that some of Anne Lister's diaries are still being transcribed to support the coming TV series. 
"Anyway, this is our local history being vividly and dramatically represented to us by a brilliant local writer. Great stuff!"
See also
HebWeb Forum: Sally Wainwright Q & A at Little Theatre
HebWeb News: the new Sally Wainwright eight part drama series (March 2017)
Pennine Pens website for details, and buying options, of Presenting the Past and Nature's Domain by Jill Liddington. The eBook of Presenting the Past will be available in the next 2-3 days.