Friday, 22 March 2019

The first Hebden Bridge Film Festival is this Weekend
The first ever Hebden Bridge Film Festival (HBFF) takes place from Friday 22 to Sunday 24 March.
Over the three days the festival will showcase 12 exciting films including previews of the critically acclaimed Wild Rose, the award winning Eighth Grade and Steve Sullivan's forthcoming film Being Frank: The Chris Sievey Story. There is a short film competition, and Q+A's with the festival's patron Maxine Peake and director/actress Jessica Hynes who will talk about her new film The Fight. The festival will also feature masterclasses, and the opening and closing party.
This is the inaugural festival and it is hoped it will be an annual event.
Louise Wadley, HBFF director, said, "The festival brings together film makers and film lovers, showcasing a truly diverse range of films. There really is something for everyone. We want as many people to come along as possible and encourage everyone to try something different. I can't wait to welcome guests including Maxine Peake, Jessica Hynes and Sheila Munyiva to the creative hub that is Hebden Bridge."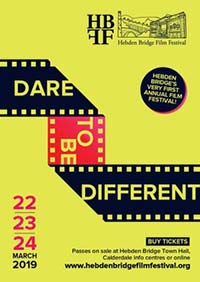 Highlights include:
A new short film directed by Festival Patron Maxine Peake who will take part in a Q&A (Friday 22 March)
Wild Rose, with a Q&A with the film's writer Nicola Taylor (Friday 22 March)
Carmen and Lola, including Skype Q&A with director Arantxa Echevarría (Saturday 23 March)
A preview of Being Frank: The Chris Sievey Story, including Q&A with director Steve Sullivan (Saturday 23 March)
Lane 0, including a Q&A with Director Manuel Tera and Alice Dearing (junior world champion Open Swimming)
Rafiki, including Q&A with star Sheila Munyiva
A preview of Eighth Grade, the recent winner at the Independent Spirit Awards 2019. (Sunday 24 March)
The Fight, including Q&A with director and star Jessica Hynes. (Sunday 24 March)
Premieres include Lane 0 (UK premiere), Seats at the Table (international premier) and We Are All Migrants (global premiere).
For tickets and further information about the film festival visit the Film Festival website
See also:
HebWeb News:Film Festival Programme launched. (8 March 2019)
HebWeb News: Film Festival Launch on Friday 8 March (26 Feb 2019)
HebWeb News: Award-winning Carmen and Lola added to Film Festival (21 Feb 2019)
HebWeb News: Jessica Hynes directing debut 'The Fight' (12 Feb 2019)
HebWeb News: 'Being Frank' confirmed for Hebden Bridge Film Festival (3 Feb 2019)
HebWeb News: Wild Rose announced as Hebden Bridge Film Festival opening film (Jan 2019)
HebWeb News: Hebden Bridge Film Festival - with Maxine Peake as patron (Dec 2018)