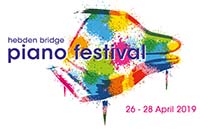 Big names sign up for highly-acclaimed Piano Festival
Friday, 5 April 2019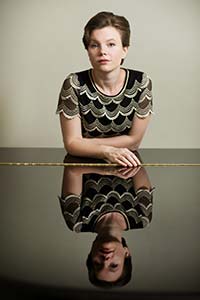 Hebden Bridge Piano Festival is now in its 7th year
Packed houses are expected for Leeds 2018 2nd Prize Winner Mario Häring and BBC Young Musician 2018, Lauren Zhang. - Rolf Hind, Clare Hammond (pictured right) and Jean Muller amongst other highlights.
Hebden Bridge packs a surprisingly large cultural punch. On the music front Hebden Bridge Piano Festival leads the way with an annual action-packed celebration of the piano and piano music in all its varied forms. Now in its 7th year it has a growing international reputation.
Headlining the weekend festival, which starts on Friday April 26th in Hebden Bridge Town Hall, are top class artists with global reputations. Clare Hammond, Rolf Hind and the Luxembourg -based virtuoso Jean Muller are some of the most distinguished classical pianists who have graced concert halls all over the world. They're joined by rising stars, German pianist Mario Häring, who was a prize-winner at the Leeds International Piano Competition last year, BBC Young Musician 2018, Lauren Zhang, and the exciting young Romanian pianist Alexandra Vaduva.
Hebden Bridge Piano Festival has never been exclusively about Classical piano music and this year there are performances by the brilliant young Parisian boogie-woogie player Jean Baptiste Franc and by the exciting and inventive jazz pianist Paul Taylor.
The Festival has always had a strong commitment to programming contemporary music and this year the eclectic and astounding pianist Rolf Hind will present a programme of music by, or in memory of, the great composer Sir Peter Maxwell Davies who died in 2016. This will include the world première of a piece especially commissioned by the Festival, written by composer Kerry Andrew whose music was performed at the Proms in both 2017 and 2018.
These high-calibre concerts are interspersed with events intended to involve the whole community. Alongside the headline performances the Festival programme features a children's concert, recitals by local pianists and students, free concerts featuring non-classical piano music, and impromptu alfresco performances by anyone who enjoys playing.
Information about all the Festival events can be found on the Festival website and following the official launch of the programme on March 15, tickets (including great value weekend passes) will be going on sale. These will be available on line via the website, by post via a downloadable booking form and in person from the Box Office at Hebden Bridge Town Hall.
About the Performers
Mario Häring – a recital of music by Debussy, Lachemann, Schubert and Beethoven from the Hanover-based prize-winner at the 2018 Leeds International Piano Competition.
"… His sound was clean and authoritative, and every note in the passage-work sang out…with unusual fidelity." The Independent
Alexandra Vaduva – the young Romanian pianist performs works by Scarlatti, Beethoven and fellow countryman George Enescu whose piano works she is researching for a Doctorate at the Royal Academy of Music.
"…an amazing and exciting performance to the delight of the audience." Farley Music Festival
Rolf Hind – the prizewinning contemporary music specialist performs music by Sir Peter Maxwell Davis, plus a series of tributes to him written by prominent contemporary UK composers including Kerry Andrew whose piece Scuttle has been commissioned by the Festival and receives its world première.
 "Rolf Hind exceeds the boundaries of what is possible on the piano" De Standaard, Brussels
Clare Hammond - a Festival favourite in 2015, Clare returns to perform pieces by Debussy, Schumann, Rachmaninov and several contemporary composers.
"a star interpreter of contemporary music" The Observer
 "flawless transparency and technique" Klassik Heute
Jean-Baptiste Franc - Stride, swing and blues piano Parisian-style from an outstanding young pianist whose uniquestyle mixes ever-inventive melodic improvisation with driving stride techniques.
"Lovely, very good playing" Monty Alexander 
"He plays with his heart" Wynton Marsalis
Lauren Zhang - a great programme of works by Brahms Beethoven and Chopin from the 17-year-old runaway winner of the 2018 BBC Young Musician competition.
"(her)power never let up, yet what most impressed was the magical delicacy of her playing in the softer passages" The Times
Paul Taylor - Newcastle-based jazz pianist now receiving increasing interest both in the UK and in the rest of Europe.
"A rare phenomenon": International Piano Magazine
"Gorgeous": The Guardian
                                                 
Jean Muller - the Luxembourg-based virtuoso performs Chopin's 1st Ballade, along with Sonatas by Mozart, Beethoven and Liszt. 
"Bristling with energy, fabulous technique and intellectual understanding" International Piano
See also
HebWeb News: Piano Festival programme launch party
(8 March 2019