Friday, 28 June 2019
Songs and cakes as gardeners open their gates
Saturday 6 July and Sunday 7 July
Georgian chants, yodelling, beautiful flowers and cakes are on offer as gardens across Hebden Bridge throw open their gates showing off a wide array of horticultural gems as part of the Open Gardens weekend.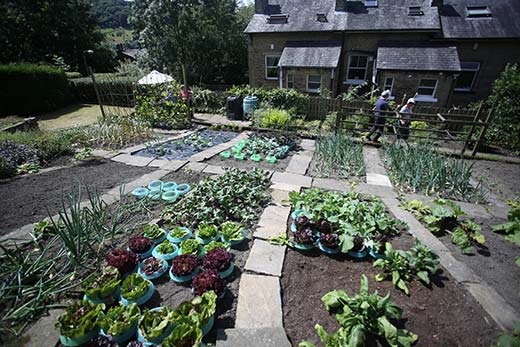 The weekend of green fingered fun on Saturday 6 July and Sunday 7 July is organised by Hebden Bridge Arts Festival. This year more than 40 unusual gardens dotted round the steep valley sides are open ranging from hillside terraces, allotments, quirky clusters of hidden horticultural gems and even a magical riverside walk.
One of the highlights of the weekend is a rare chance to see Rev. John Fawcett's garden on New Road. This lovingly managed, compact, steeply terraced, canal side garden was established by the local Georgian 'celebrity' and legendary preacher when he lived in Hebden Bridge.
Cream teas will be on offer at former sheep field Delmar on Place House Road, which is now home to wisteria and witch hazel thriving alongside magnolia, quince, box, rhododendron, mature Japanese ace, plum trees and azalea.
Birchcliffe residents have once again come together to create a cluster of gardens and this circular walk of town centre plots starts by heading up the steep cobbled path to the left of Stubbings School at the bottom of Birchcliffe Road.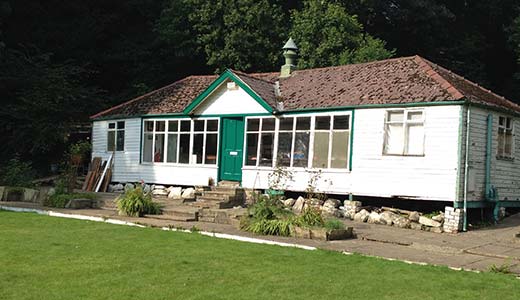 The team at Steepfields Allotments and Leisure Gardens, which they describe as a 'secret gardens', are showcasing their 22 plots of various sizes, featuring a community plot at the top of the site.
At the other end of the scale Railway View on Palace House is a very small garden which has been transformed from a litter strewn verge into a colourful wild-flower area. The gardeners will recreate the Bicycle Den café, and the menu will include Palestinian and Gaza platters, plus a range of refreshments and cakes.
Budding horticulturists can join Her Outdoors on Saturday 6 July in Hebden Bridge Town Hall to create their own Mini Gardens in a bottle or a jar. This free session creating terrariums runs from 12 noon to 3pm.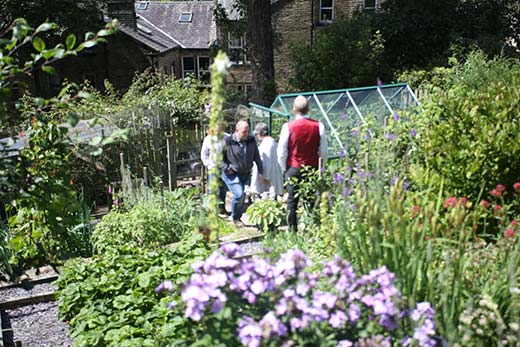 For fans of music and plants Georgian choir Zarebi and the yodelling sisters Satteli are creating a unique Singing Garden at Jumble Hole Mill.
For the more adventurous there is a chance to take a short walk down the canal to Callis Community Gardens, managed by a committed group of volunteers and boaters who care for the land and the plots.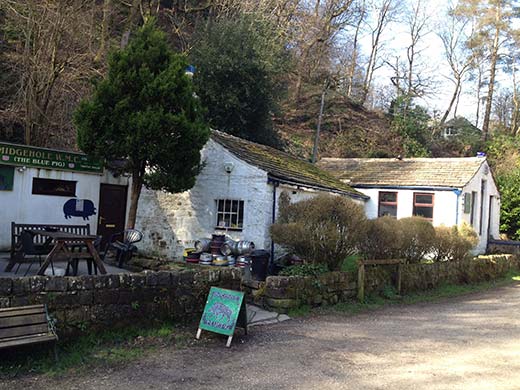 Another route is a stroll along the rugged path by Hebden Water towards Hardcastle Crags starting at Foster Lane Bridge to the Blue Pig where there is a family of topiary pigs. Along the way walkers can drop into Hebden Bridge Bowling Club which is a renovated Edwardian pavilion and bowling breen in a beautiful woodland setting where they will be offering Teas and cakes, croquet and bowls and an art exhibition.
From the Blue Pig it is only a short walk up to the Crags to discover a brand new installation by sculptor Hannah Honeywill. The Golden Aerialist, created in partnership with the National Trust, is designed as a sculpture trail in the woods for all the family to follow, and is there until July 21st.
Free maps showing all the open gardens are available from Hebden Bridge Town Hall or can be downloaded at www.hebdenbridgeartsfestival.co.uk
See also
HebWeb News: Street Sunday spectacular is back (13 June 2019)
HebWeb News: Arts Festival explores the digital world (5 June 2019)
HebWeb News: John Hegley's Easter offer (13 April 2019)
HebWeb News: Calling all gardeners (9 April 2019)
HebWeb News: Arts Festival Open Meeting - a chance to shape the Festival (15 March 2019)