Mytholm Chimney: Statement from Town Council 
Thursday, 24 October 2019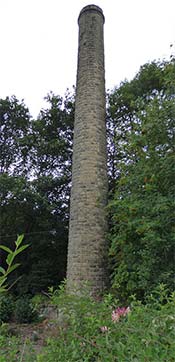 HebWeb correspondents have raised concern over the proposed demolition of this Hebden Bridge landmark. Andrew Noble wrote, "My family have walked or driven passed this chimney every day for at least 75 years and it looks the same now as it ever did. It's 230 years old."
Julie C reminded readers that the Old Town chimney was only protected at the last minute by a combination of local people turning out to stop the demolition when the crane had already arrived and speedy action by a nearby resident to get it listed.
Hebden Royd Town Council have issued a statement: "While both Calderdale Council and Hebden Royd Town Council are passionate about local heritage, including our industrial heritage, in the present economic climate the councils would find it difficult to take on the responsibility for the chimney at Mytholm Works in Hebden Bridge. 
"Councillor Sarah Courtney, Calderdale Councillor for Calder Ward and Hebden Royd Town Councillor for West End Ward said, 'If a local group, either new or existing, were able to buy the chimney, there would definitely be the appetite for the councils to assist.'
"The issue was discussed at Wednesday's meeting of Hebden Royd Town Council and the council were agreed that they would want to retain the industrial heritage of the area wherever possible. The mood of the meeting was to support approaches by residents to facilitate this.
"For further information please contact 01422 842181 or email"
See also
HebWeb Forum: Mytholm Steeps Mill Chimney Demolition