Thursday, 26 November 2020
The origins of the Circus
Speaker: Stephen Ward
Stephen Ward, the speaker, was only four when he discovered his lifelong passion for the circus and all things associated with it. Focussing on one of the early giants, he talked about the life and times of Philip Astley, also known as "Billy Buttons".
After joining the Dragoons and fighting in the seven years' war, Astley emerged after many courageous and daring adventures at the rank of sergeant, with a pension and a white 'Spanish horse'.
Never one to sell himself short, the extravert and intelligent Philip married an aristocratic lady called Martha Jones who was always known as Patty. With his pension, he leased a piece of land on the south bank of the Thames and set up his first riding venture. With hoardings around the site and a pegged out circular ride, he charged people to come in and see him and his wife give entertaining demonstrations of their equestrian skills on multiple horses.
Soon he was so successful he could move to a timber yard near Westminster Bridge where he built a better, covered, arena so people could watch in comfort. Always wresting with licensing laws, they recruited other acts including acrobats, high wire performers, a strong man and a clown.
Billy Buttons was his first comic equestrian character. The imagined travels of Billy, as a poor rider, allowed Astley to provide relief entertainment through a range of humorous incidents with his horse.
Not yet a member? You can attend one talk free by requesting an invitation to this zoom event. We're always delighted to welcome new members.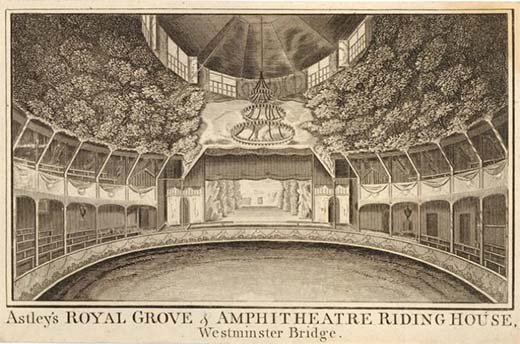 Astley settled into a pattern of building and entertaining in London during the winter, touring England in the summer, including Leeds and Liverpool. This gave him enough cash to roof over Westminster Bridge, renamed as the Royal Grove & Amphitheatre. By then, the beginnings of circus are seen with a ring and side-stage, enabling burlesque or pantomime entertainment.
Later, when Astley was in Paris, he applied for a licence to perform but was told that he could only perform on horseback. Confident and ingenious showman that he was, he employed a large flat bed with the stage resting on the back of his horses.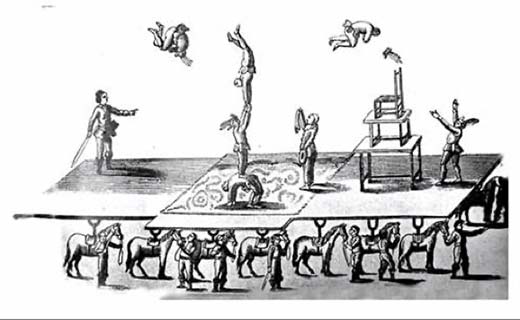 Astley had great success in Paris, establishing a large theatre and playing for the royal family, when his son John provided another level of grace and inventiveness.
Fire was a great hazard in public wooden buildings and twice the Royal Grove was totally destroyed. On the first occasion, he dashed back from France and astutely set up temporary premises at the Lyceum on the Strand. The Grove was rebuilt in a year and opened to great acclaim, before burning down to be rebuilt even grander.
In 1811 he sold up and retired to Paris where this consummate showmanand entertainer died, three years later, at the age of 72.
A much more detailed account of the talk with extensive illustrations appears on our website.
The next Todmorden U3A Monthly Members Meeting by Zoom will be on Friday December 18th at 1.45 pm, open to all fully paid up members for 2020. It will be our Christmas show with Fools Gold a festive musical and story telling extravanganza.
Not yet a member? You can attend one talk free by requesting an invitation to this zoom event. We're always delighted to welcome new members.
Our contact details are www.u3atod.org.uk (website), info@u3atod.org.uk (email), or 01422 886021 (phone).

Many thanks to Michael Astrop for this report
Previous U3A reports on the HebWeb - click here