Moira and Louis Benoit
Local writer and storyteller, George Murphy interviews local characters and personalities
---
Introduction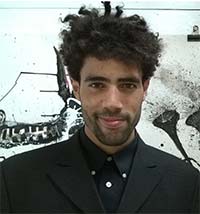 Meet mother and son artists, Moira and Louis Benoit, whose work can currently be enjoyed at The Artworks in Halifax, where Louis' illustrations of Michael's Stewart's newest book The Dogs are strikingly displayed alongside Moira's canine sculptures. At the invitation of Hebden's mover and shaker Fiona Pattison, I ventured down Paris Gates to buy Brontë expert Michael's book and to meet the artists for a chat.
('Stewart has done for Dog what Ted Hughes did for Crow,' Steve Ely.)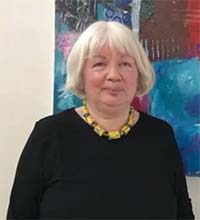 Take note: there is a lively cluster of workshops and cafes in those parts. The ArtWorks gallery is a big space to fill, but the curators and artists had boldly met the challenge. I loved both art and poems, and expect to make a return visit before the exhibition closes on 12th August.
I was charmed to meet mother and son, and there was the unexpected bonus of watching them greet visiting fans of all ages. I was keen to learn about the Mytholmroyd duo's backgrounds, and what has inspired them along the way.
---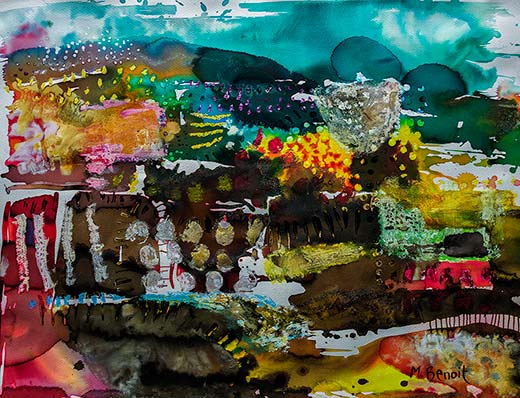 The Moira and Louis Benoit Q&A
Can you tell us about your latest exhibition? How did you respond to Michael's book?
Louis: I thought 'The Dogs' was interesting and really vivid, such that I could see images in my head straight off.
Moira: My first impression was that Michael writes in much the same way that Louis draws; with impact but expanded with such detail.
Turnespete - from The Dogs

Turnspit Pete, Turnspit Pete,
spinning in your wheel of heat,
turn that spit and roast that meat,
keep it turning to their beat.
Long of body, crooked of leg,
unhappy toiled, mongrel bred,
glaucous coloured quadruped,
saving labour for the chef.
Round and round in your wheel,
hour on hour for master's meal,
fowl and beef, sheep and veal,
their table's topped from your zeal.
Turnspit Pete, Turnspit Pete,
will they toss you crumbs to eat?
Will they give you snout and feet?
Or will you die before your treat?
What first inspired you to become artists
Louis: I have always drawn. It is good to have something to excel at when dyslexia can create problems with other means of communication.
Moira: Like Louis, I have always drawn and it seemed to be the obvious course. I studied at The Glasgow School of Art. It was an amazing building by Charles Rennie MacIntosh which will hopefully be restored to its former glory!
What courses and qualifications did you acquire?
Louis: I graduated at the The Duncan of Jordanstone College of Art, University of Dundee. The town that gave us The Beano and other classic comics.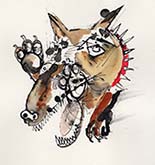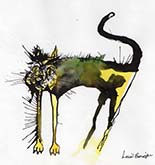 Moira, can you tell us about your work in the theatre, and how it has influenced your art?
Moira: As an Art student I would go to The Citizen's Theatre and see the most amazing visual and clever productions designed by Philip Prowse which led me to work in the theatre as a designer.
Louis, your illustrations are very striking. Which artists have inspired you?
I returned to Mytholmroyd and discovered The Artworks at Halifax where I have a studio. I am grateful for the help I received from the two founding directors, John Ross and Peter Stanyer. It was here that I met two artists who have inspired me from an early age; Ralph Steadman and Quentin Blake, who have both had exhibitions at Artworks.
Have you been able to exhibit in local galleries over the years?
I had a solo show at The Artsmill, Hebden Bridge, The Illustrated Jackass which was well received and have also had work in group exhibitions at The Artworks, The Artsmill and The Stafford Gallery, London, Dean Clough Gallery and The Gallery on the Corner, Edinburgh.
Moira: I thought I would be OK after all that experience at building sets and would enjoy fashioning clothes from the local plant life. In theatre I have designed for The Phoenix Dance Company, Selfridges, Northern Broadsides, amongst others.
You collaborated on a children's book. Was it rewarding to get feedback from children and parents?
Louis: I illustrated for a book my mother wrote, Rooso takes to the Sky about the first hot air balloon flight at Versailles in 1783, the passengers being a duck, a sheep and a rooster. I have some really lovely letters from children and parents saying how much they enjoyed it.
How would you survive on a (semi) tropical island?
Louis: Coconuts.
Moira: I think I would be OK: there's many uses of coconuts: food, drink, eating utensils, fibre for clothes, bedding, rope … sea going craft and musical instruments!
If you had to choose one piece of art as your current favourite, what would it be?
Louis: My favourite piece of my own art is still The Robot, age 10 - see above.
Moira: I have sculpted busts of my family which are special to me. Jacob Epstein and Rodin are sculptors I admire.
Favourite piece of music?
Moira: Wild is the Wind by Nina Simone.
Louis: White Stripes
Favourite film?
Moira: Belleville Rendezvous, an animation by Sylvain Chomet.
Louis: Oh brother where art thou or anything by the Coen Brothers.
What makes you laugh?
Moira: Malcolm in the Middle is a favourite comedy show. Louis and I both loved that programme.
Louis: I like comedians who use movement and expression for laughs: Rick Mayal, Lee Evans, John Cleese, Jim Carey.
Finally, can you share a review of your picture book for children?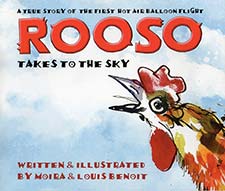 Take flight with Rooso a rooster, Montauciel a sheep and a duck with no name who were the passengers on the first hot air balloon flight at The Palace of Versailles in 1782. Rooso tells of the true events that led to this uplifting marvel which will make you chuckle. This is an enjoyable story full of lovely quirky details that really bring the tale to life.
"Fantastic story for kids (and big kids). This is a funny and engaging story, based on facts, with beautiful pictures. My son dreams of being an inventor and this book inspired him to paint, write and invent and I love that he was learning history at the same time. Highly recommend!" Mr. A. G. Kay
Moira and Louie, thank you for giving us a glimpse into your world.
---