Heather Wilson,
(also known as H)
Local writer and storyteller, George Murphy interviews local characters and personalities
---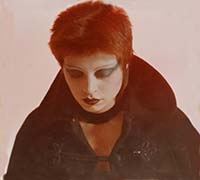 "I was born in London, adopted at 17 months old, moved to Warwick for 10 years, then back to London again. I went to Lucy Clayton Modelling School, The London College of Fashion, then worked in various fashion shops, restaurants, ad agencies, and Vidal Sassoon (at the same time as the late, dear John the Barber, but I never knew him then!). I then worked for myself at home, doing my commissions and paintings, as well as having my own house cleaning and ironing business.
I left London in 1993 to do my Art Degree in Ipswich, Suffolk. My Pa died as my Degree started, my Ma died at the end of it, so I thought I'd move down to Dorset, where we'd had our family holidays. A fellow student who lived in Heptonstall invited me to stay, and showed me the art spaces, and all the great places in and around the Calder Valley, so I thought I'd give it a go. If I didn't like it, I could always move...
...23 years on, I have my Shop/Studio upstairs in Bridge Mill, above Innovations in St. George's Square, where I paint bespoke water colour pictures which tell the client's life story. Including details from photos they provide, I copy as near as possible the people, pets, cars, bikes, favourite places, their homes, etc., and, from the stories they tell me, I create a unique memory to celebrate Weddings, birthdays, Anniversaries; to a simple picture of their favourite pet. I also embellish hats for all occasions, the madder, the better! (I do sensible ones if I have to!)
I give talks to groups, the W.I, Ladies Luncheon groups, Embroiderer's Guild, etc., which I really enjoy! I take my artwork and Mad Hats, and love telling tales of my work and my travel adventures in India with lovely textile samples. Sadly, due to this effing virus, all talks have been cancelled, which is so sad, as they give such an opportunity for the older generation to have contact with their friends.
I write and perform poetry, and have also been in two plays with the Todmorden Amateur Dramatic Society - one of which was Calendar Girls, where I actually took off my thermal vest! Being a Soft Southerner, this was a rare occurrence..apart from when I used to work at Spearmint Rhino in Harrogate...but that's another story…"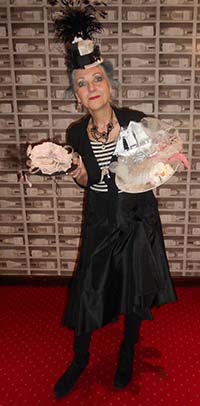 What's your earliest memory?
My earliest memory was going to an eye specialist in Harley Street in London. I remember the strange contraptions I had to look through, and the tube journey. My Ma later told me that was the week after they had adopted me, so I would have been about 18 months old!
Favourite artist? Through a fabulous writing course with local poet Gaia Holmes, the inspiration of the week was a Cuban artist called Gerardo Castro, a painter of fabulous, exotic women.
If you could have chosen your own name what would you have chosen? Madame Ekaterina Nokabolokov
When have you been happiest? When I'm in love. When I'm painting my commissions, and I get the likenesses spot on. When clients see their paintings and are delighted with them. When I am performing/ on stage/ giving talks/ poetry (and it's going well!). Dancing.
How was Lockdown for you? It sounds odd, but it was a really "good" one! The sun shone. I stayed with my partner in the Midlands - we rode bikes through bluebell woods and down lovely country lanes, and I did masses of gardening and had a rest for nearly 3 months. I rarely have holidays, so it was a lovely break for me, away from the worries of the "real world". We also saw the ISS go by each night, which was really special!
Who is your hero or heroine? For what reason? Grayson Perry! What a legend – his ceramics, tapestries, and great tv programmes with his Lockdown Art Club, and just the mad way he is!
If you were in the condemned cell, what would you choose for your last meal? A large glass of dessert wine to start, which would last throughout the meal. Spanish tapas to begin, then Tournados Rossini, then a large slice of my friend Nigel's homemade Lemon Drizzle cake, and a glass of chai from an Indian roadside stall. Yum!
When's the time you laughed loudest? I hate to admit it, as I never really liked his characters, brilliant though he is – but during lockdown, we binge watched Ricky Gervais in Extras, when there was an incident with a bottle of sparkling water. His timing was genius. We squirted coffee down our nostrils and nearly wet ourselves!
What's the most difficult challenge you have faced? Tracing and contacting my Birth Mother, 30, and again 10 years ago. She was not interested in meeting on either of the times, in spite of us having a short time exchanging letters at the start. I know where she is, but there are too many risks and too great a distance involved. It would get me nowhere going there, as I also have to respect her choices.
What's the good and bad of living and working in Calder Valley?
Good: Having a fabulous shop in a place where people from all over the world visit. The Arts Festival, Open Studios, Hand Made Parade, Steampunk weekends, arts events, great cafes – Leila's Kitchen being our favourite - and the mad, artistic people who make Hebden Bridge so individual.
Bad: The floods, which I have endured twice when I had my shop on street level. The present ridiculous parking situation, and new barriers and planters in Crown Street, and rumours that the powers that be are trying to get traffic/visitors away from Hebden Bridge. What was a fantastic, award winning town with lovely thriving independent businesses, so many having shut down because of greedy landlords and the result of the floods.
If you could change one moment in your life, what would it be? Many moments, I'm afraid...will I never learn?! - I would not have gone out with some of my more unsuitable partners when I knew full well at the time I should not have gone there!!
To whom would you like to have said sorry - and why? Ooh..don't get me started!!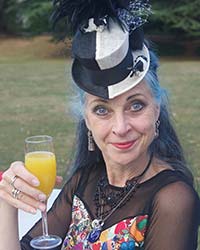 What's your proudest achievement? To have my own Shop. I am very lucky to have a job doing what I love most, and to hear people say I bring happiness with my paintings and talks! Oh, and I've ridden two laps of Nurburgring on my motorbike!
What question would you like me to have asked - and what would your answer have been?
"What's yours? I'm paying!"  A Luddenden Valley Wines Raspberry Gin Liqueur with ginger ale, please! Cheers!
(H's shop, even in these difficult times, opens 7 days a week, unless she's away, or giving a talk. She asks ,"Please phone before making a special journey.")
---
More HebWeb interviews from George Murphy
If you would like to send a message about this interview or suggest ideas for further interviews, please email George Murphy