John Billingsley

Local writer and storyteller, George Murphy interviews local characters and personalities
---
A tale of a writer and offcumden, expelled from school, rebellious in Essex and Paris, of a boat and three ladies - one of them an iron one - of escapes to Mytholmroyd, Japan and Hebden Bridge; a man wrapt in nature, libraries, magazines and music …
"Born in Twickenham, thereafter moving to Hanwell and Acton, I was a Middlesex lad, very conscious that I lived about a hundred yards on the right side of the Middlesex boundary sign on the Uxbridge Road. I was highly indignant when Middlesex was merged with Greater London and started a Save Middlesex campaign at my junior school. I think there were three of us. Our only consolation was that Middlesex persisted on addresses… at least until email arrived. It may have been then that I decided I wanted out of London.
Getting expelled from school for political activity helped, and so did Essex University. A few years of hitch-hiking and dossing after mediocrely graduating led me to the Calder Valley. Of course, there was a lady involved, who helped pay for my initial footprint here - the Sherwood Lady… There was a lady - well, actually two - involved in me leaving the valley for ten years, too - the Iron Lady, and someone much more appealing in Japan.
My first impressions on arriving in the valley in 1975 was a recognition that there was a very different culture from the South - different expressions (generally lugubrious), different ways of doing things, different stories, different words, even different colour palettes on grocery packaging. And my house was 50 yards from a great poet's birthplace. That was where my interests in folklore and the landscape really began to take shape and that's where I am now…"
Quick fire Q and A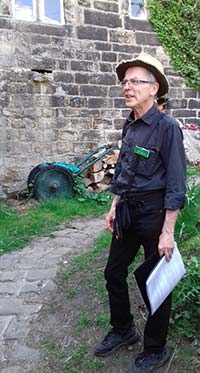 What has made you laugh loudest?
I seem to have been giggling all my life, but guffaws are rare.
When did you last cry?
As I get older I get bleary-eyed more often, but the last big cry that went on for weeks was when a favourite cat died - a recurrent theme
What's your favourite book and why?
I've worked in a library for nigh on 30 years, so how how do I answer that with one? Rob Cowen's Common Ground – like Macfarlane but humbler. Anything by the late and much lamented Graham Joyce,  magical fiction with solid this-world grounding. Other particular pleasures have been Susanna Clarke's Jonathan Strange and Mr Norrell, Pullman's Dark Materials sequence...
Q: When you visit libraries or bookshops, which genre do you visit first?
Landscape issues, like MacFarlane and psychogeography, then magic and folklore – the kind of angle I take when writing or researching local history. And magical fiction, because that's the kind of world I live in every day anyway
Name some favourite songs
You Set The Scene, Love - 8 minutes of personal anthem… Or 'A Sailor's Life', Fairport Convention, at 11 minutes even longer bliss; 'The Circle is Unbroken' by the Incredible String Band? By heck they're all a bit old, aren't they…
What's your favourite place?
Nara, Japan.
Sounds interesting, please tell us about it.
It's a beautiful and ancient capital where I felt very at home, like coming home, the first time I set foot there among the shrines and temples and deer park. My soul calms and I even found that my Japanese flowed better there than elsewhere! Even now, 30 years on, I miss Nara and if I ever live in Japan again, it'll be there.
Who is your hero or heroine?
No such entity, but currently give highest respect to Greta Thunberg, and glad I'm not alone in that.
How has lockdown been for you?
As someone who likes going off on long walks on their own, and with amenable company and plenty of writing projects at home, it's been OK. As someone who likes live music, cinema, hugging good friends, inviting people in for tea, it's been frustrating. Seeing friends is like prison visits, institutionalised. But the villagers of Eyam had to stick out worse conditions than this for 14 months.
How many books have you written - and which is your favourite?
7 written, 3 edited. Quite fond of West Yorkshire Folk Tales
If you could recruit a famous person to your desert island, who would you choose?
Best not to have illusions shattered or pedestals demolished
What brought you to Hebden?
Pre-cognitive dreams, fate, coincidence, Glastonbury, Accrington, Sheffield and the Sherwood Lady - in that order.
Can you tell us about a moment that changed your life?
Either something psychedelic, or falling for a Japanese woman when Thatcher was busy wiping out employment chances here.
What was the best time in your life?
A memorable moment was getting expelled from grammar school - definitely the best time of my schooldays, though my parents didn't agree... There have been much better times than being an adolescent, though! Japan through the 1980s was pretty darn good.
To whom would you most like to say "Thank you?"
The students I taught in my ten years in Japan, and my colleagues on the magazine I edit now, Northern Earth.
I have bought copies of your magazine. Could you describe its underlying philosophy?
When I co-founded the group that led to Northern Earth, back in 1979, it was alternative archaeology and folklore with a Northern brief. Since I took over as editor in 1992, I've steered it towards a radical and alternative antiquarian viewpoint – still alternative archaeology and folklore, and radical, but more international than before. And a phenomenological perspective of looking at the meanings that places hold for us, past and present. We stay wary of orthodox academic or New Age assumptions.
To whom would you most like to say "Sorry?"
My closest friend Jim, no longer with us, is first among too many. Insights don't come when they're most needed
How do you rate living in Hebden (floods included)?
I live above Hebden Bridge, and used to live in Mytholmroyd, I've been here for 45 years and when the world is working right, with the Trades Club and Picture House open, and paranoia or daft conspiracies not undermining community, what a great little bubble it is!
What would your motto be?
'Allo 'allo, what's all this then?
What question would you like me to have asked - and what would your answers be?
Q.Worst habit? Leaving three dots at the end of too many sentences.
Least favourite thing?
I don't like full stops.
Was there a politically defining moment for you?
I'd say either Paris 1968 (the Situationist discourse) or the Torrey Canyon oil spill of 1967 - if I can still remember them 50 years later, they must have been significant, right?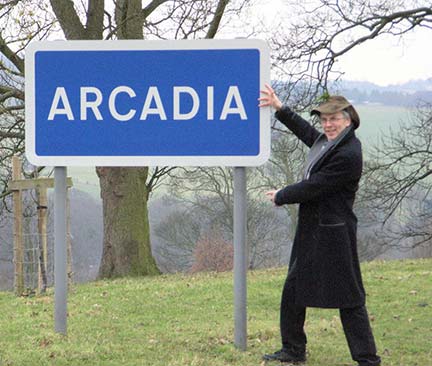 ---
More HebWeb interviews from George Murphy
If you would like to send a message about this interview or suggest ideas for further interviews, please email George Murphy