Richard Whitaker
Local writer and storyteller, George Murphy interviews local characters and personalities
---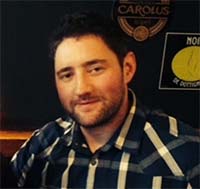 Introduction
George Murphy writes: What impresses me, when I stroll through our local stone masons' yard, are the skills of the masons and the politeness and affability of the workers, led by Richard Whitaker.
I was keen to find out more about the history of Whitaker Brothers and whether Richard had always wanted to join the family business. I discovered more about the prestigious projects the firm has undertaken in recent years and his reflections on moving down to the valley with drama teacher Jesse and son Joe.
---
Richard, did you want to be a stone mason from an early age?
 
I didn't. My passion for stone masonry came a bit later. When I left school and I was waiting for my exam results, I did some labouring for my Uncle Peter helping build a conservatory. At the time, it was just to get some cash in my pocket but then my dad taught me the basics of masonry and I found I really enjoyed it and was good at it.  
 
I actually wanted to get into advertising when I left school but after the six-week holiday, which I spent working, I decided to stick with masonry and building. My passion for it developed as my skills developed so it was a good choice.
I heard a guy on the towpath phone someone and say, "I'm just passing 'Pinky and Percy's." Can you tell us about the original business and when it started?
 
I'm not sure who first christened them Pinky & Percy but it's really stuck.
 
The original business, known as Whitaker Brothers, was started by my Dad Percy and my Uncle Peter. In the late 60s/early 70s, they acquired the barn and land around it which was mainly used for storing building materials.
 
They were both excellent builders, roofers, plasterers, and joiners as well as stonemasons, with a very good reputation around the Valley for quality workmanship.
 
In the 70s and 80s, a lot of buildings were getting demolished and they would buy stone to use on their own building projects. This then developed into selling any surplus to other builders as they had the space to store it. They would have seen the opportunity to make money doing this as a sideline and so the stocks grew and grew.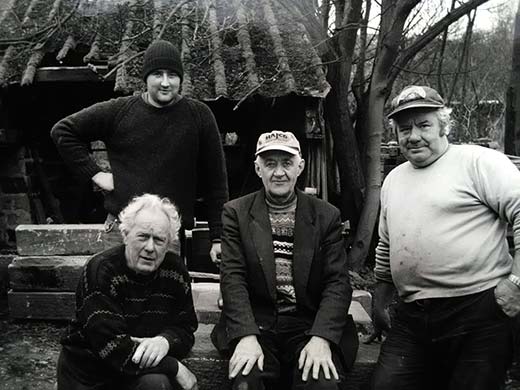 Where do you get your stone from?
 
Most of the newly quarried stone we use is very local - Blackshaw Head, Halifax, Haworth and Keighley, and also some from across the border in Longridge Preston which is the stone we used for the restoration of Burnley Town Hall.
 
I once saw a photograph of some intricate stonework you produced. Did you serve an apprenticeship?
 
I didn't serve an apprenticeship. I've been acquiring skills since I left school. I believe the piece you're talking about was the chain link I made to test my skills. Dave recently did a ball in a box for the same reason - a bit of fun.
Tell us about your education. Were you in Jesse's class at school?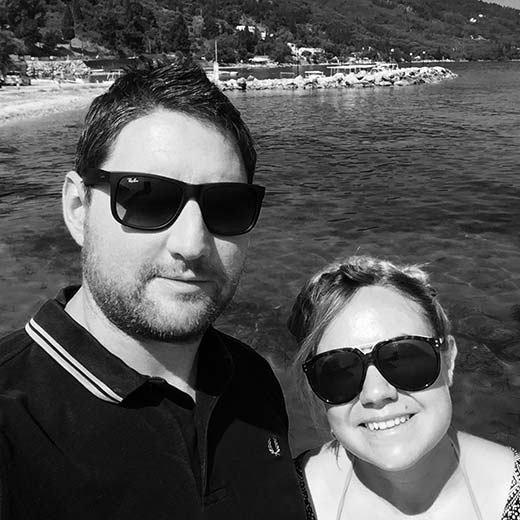 Me and Jesse go way back, even though we didn't really get to know each other until later in life. I first attended Heptonstall Infants school at the same time as Jess, but I left to go to Colden school as I wasn't a big fan of the headmaster.
 
After Colden, I attended Calder High as did Jesse. We were in the same year, but not in the same classes or the same social circles. In our twenties, we got to know each other a little more as my best friend got together with her best friend, but we only occasionally crossed paths as Jesse lived in London. We got together in 2013 and did the long-distance thing for quite some time before creating our life together in Hebden.   
 
What was your favourite subject?
 
To be honest, school wasn't really for me. I enjoyed the more hands-on subjects.
I really enjoyed playing basketball and played for the school team. English and Drama were OK too. Some fond memories of hanging out with my friends, less so of the lessons.  
 
Do you miss living at Slack?
 
I thought I would as I've always appreciated living at Slack. The views are pretty special up there. However, we really love living at Mayroyd and the energy of Hebden. It's so handy for work too. I'm pretty happy being in the bottom of the valley now.
Are you enjoying being a dad?

 
Of course, I love being a Dad. He's absolutely ace and we have a lot of fun. I know everyone says it but they really do grow up so quick.
 
How did Covid affect your business?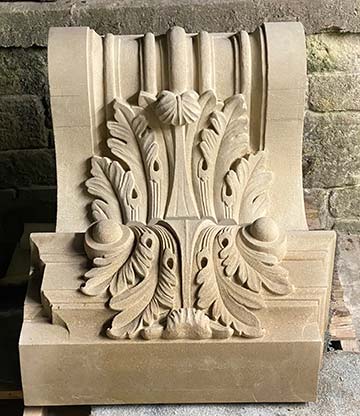 Luckily, we had the Burnley Town Hall job underway by then as well as some other decent jobs and our suppliers and customers were able to continue working so we weren't really affected by Covid. Very grateful that we could continue as we did.
Can you tell us about the recent changes to the yard and the old barn?
 
The building had been neglected for too long and the roof badly needed doing so I had no choice but to get it done. As with most buildings of this age, it became a much bigger job than I'd anticipated.
 
We are moving the office and canteen upstairs to make things easier when it floods again and I managed to get a full size pool table on the top floor much to Jess's bemusement.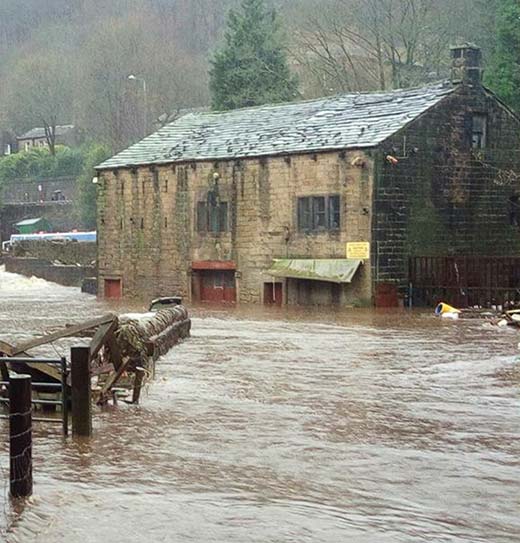 I like seeing the skills of the masons. How many workers do you employ?
 
I've got a really good team down at the yard. I currently employ two masons, Dave Hearn and Adam Beaumont, a yard manager Philip Cheshire-Neal and I also employ casual labourers as and when needed.
 
It's great to work with stone and have people appreciate the work you do. We've also been lucky to work on some incredible projects too, such as Burnley Town Hall and the supply and partial set build for the BBC drama about the Brontë sisters where they built a replica of the parsonage in Haworth and some other bits at Granada studios. It can be a very satisfying line of work at times.  
 
What's your favourite type of music?
 
I'm usually blasting some type of electronic music through my headphones whilst I work, but you might also find me listening to Leonard Cohen, Tinariwen, Fugazi and Bob Marley.

Favourite TV series - ever?
 
It's got to be Breaking Bad, I think. It's amazing storytelling with a brilliant central character. Seeing Walter White transform into Heisenberg is pretty spectacular.
 
Do you have time for any hobbies?
 
Not as much as I'd like. When I can, I get on my mountain bike and head up on the tops. It's great for clearing the mind. I also enjoy clay pigeon shooting and playing pool.
 
I have a habit of telling you to take some time off. Have you got a favourite place for holidays?
 
I'm probably my happiest on a Greek island. That amazing combination of fascinating history, beautiful beaches, amazing food, lovely people.
  
I've also had some fantastic short city breaks in Brugge and Amsterdam and I have a a lot of memories of times spent with close friends in the south of France. 
What would you choose as your special study on Mastermind?
 
Might have to be Breaking Bad. Probably need to fresh up my knowledge with a rewatch. Or Belgian beers, for which I would enthusiastically take on the required research.
What makes you laugh?
 
Joe is pretty entertaining. TV shows - Spaced, Flight of the Conchords, Curb your Enthusiasm. I still think Ronnie Barker's performance in Porridge hasn't been beaten yet though.
Favourite meal?
 
I do love a good restaurant. I think my favourite meal of all time was at The Black Swan in Oldstead. Saying that, you can't beat a good curry. Big shout out to Tammannas in Mytholmroyd.
 
What's the good and bad aspects of living around here?
Its lush beauty which I try not to take for granted. I feel connected to the landscape and, being a stonemason, I feel connected to its history. I also love how open-minded people are around here and how that's influenced me in my life.  
 
Bad aspects – working in the yard in the depths of winter can be tough, and of course the continual flooding which really puts a setback to the business, taking months to get back to normal afterwards. 
Finally Richard, I loved stopping for a chat with your uncle Peter. He's sadly missed. Have you got an anecdote about him you'd like to share?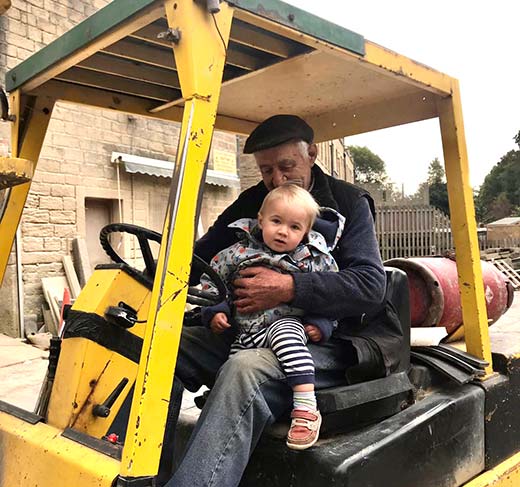 There was a time at work where my Uncle Peter had taken a fall. I think he'd fallen asleep on the chair in the office and tipped forward and landed on his face, he'd bust his nose and was a bit dazed and confused. I called an ambulance and they came down and took him into the back.
He was in there for quite a while then one of the ambulance crew came and found me and said they were going to take Peter in to hospital as a precaution and that he wanted to speak to me. I was worried for him and approached the ambulance with caution not knowing what the diagnosis was or what he wanted to tell me. I expected it to be something really profound or about looking after the business whilst he was away, informing his sister or what the ambulance crew might have said. There was a side door to the ambulance and I cautiously entered to see Peter laid out on the stretcher. He beckoned me closer and said in his Yorkshire accent, "Thus alf a ham salad sandwich in mi bag, make sure it gets eten," clearly more worried about food going to waste than anything else at that moment.