Winston Plowes
Local writer and storyteller, George Murphy interviews local characters and personalities
---
Introduction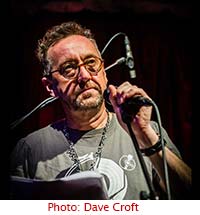 After entering the world in the 1960s, when my parents were living in a caravan on a petrol station forecourt in Selby, I now find myself living aboard a very different kind of metal box, which I have called my home on the Rochdale Canal near Hebden Bridge for the past 15 years. I've lived in Yorkshire all my life, except for a time in Preston and Manchester taking my degree and postgraduate studies.
Despite being an asthmatic child, I have always enjoyed 'sporting adventures' and after 50,000 miles exploring Britain and Europe by bicycle, I decided five years ago that I had done enough, hung up my wheels and took up running after only ever being hopeless at it. I have now run 10,000km and for the past 1,300 days consecutively.
I've always been driven by creativity and am currently lucky enough to be able to make my environmental art and experimental music whilst teaching poetry and creative writing as a freelancer in education and with adult groups and couldn't wish for a more rewarding and varied job.
Michael Symmons Roberts once said that a poet is "a messenger, bringing back bulletins from the edge of experience" and I love visiting those places, whether it's working with the patients of Overgate Hospice (see my poetry film here) working with a mental health charity, or with primary pupils who have extra needs. It's a daily privilege to be a journalist of the emotions and to try and give people a voice to help them express themselves in their words.
---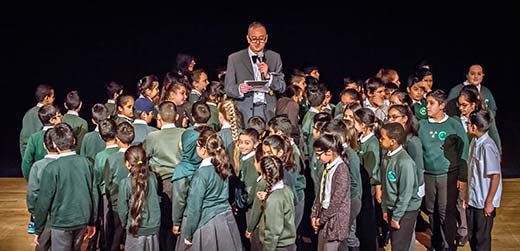 Winston Plowes Q&A
How was lockdown for you?
It strikes me that lockdown has highlighted big differences for many of us. Some have lost everything, whilst others have actually enjoyed or even benefitted from this unprecedented period. I have been lucky to have survived and I tried to enjoy the extra time to be creative but have sadly attended four funerals during the pandemic which has added a huge dollop of reality.
You describe yourself as self-employed. Can you describe a typical 'day in the life' this autumn?
Difficult, because every day is so different. But in between stroking the cat, watching Columbo, running 5km and sawing firewood, today's activities have been mostly homebased… Collaborating online with a school in Peebles with my land art, writing a lesson plan on the work of 1970s US text artist Sister Corita Kent and preparing lessons on the theme of rainforests for a school in Halifax tomorrow afternoon, and that's as typical as a day gets.

Didn't I see you spinning plates on TV one time?
Indeed you did, in one of my many alternative lives. This was a 2015 commission from the BBC to create one of their famous 'idents' animating their '2' logo and incidentally the first to feature a living person. Here's a link to my six seconds of fame
What's this about you taking a 'poetry bike' along to Glastonbury?
Yes, I've performed at every Glastonbury Festival for the past 20 years, more latterly as the proud inventor of the world's first (and possibly last) Random Poetry Generating Bicycle, The Spoke-n-Word and also The Poem-O-Matic: an interactive art installation and poem generator that produces text from pure electricity (with a little help). You can find out more here
When did you move to Hebden and what first attracted you to the area?
I followed the path of other escapee friends from Manchester whilst struggling to regain my balance following a failed marriage and finding myself homeless in 2007 and don't think I could ever live in a city again. I love how Hebden Bridge and Calderdale has so many layers, culturally and geographically. You can have a rich micro adventure within a few miles of your home.

What's your favourite book?
The Sherlock Holmes Stories which was the first book to really engage me as someone slow to take up reading.
TV series?
See above but also Nature Watch, Time Team and Star Trek
Piece of music?
Current front runners for a mini playlist might be Nanci Griffith and Michael's Song, Max Richter's On the Nature of Daylight, Saxon's Dallas 1pm and Family Snapshot by Peter Gabriel with Sibelius's Tapiola to keep them company.
Holiday location?
Living in the middle my partner and I are drawn to the coast where Allonby beach in Cumbria is a current regular pilgrimage or the faded splendor of a seaside town in the closed season.
Photo left: DADA London 1 (Derek Adams) 2018
I bought one of your books containing fragments of speech and signs you gathered in Mytholmroyd. Could you explain the rationale for 'found poems', and how you select and order the fragments and phrases?
A great question. Found poetry and other more 'mechanical' experimental techniques of assembling words in interesting ways are useful when a writer is feeling less inspired by their muse. It can feel like you are borrowing another person's vocabulary which is interesting. Found poetry can be surprisingly powerful, here's an example of one of my found poems from lockdown in this 2 min film
Can you share one of your performance videos with us?
What about this short lockdown offering made for the virtual Poetry & Words tent at Glastonbury in lieu of a face-to-face festival.
I enjoyed Tales from the Tachograph, poetry road tripping with Gaia Holmes (not always sharing the same vehicle). How did the dynamics of that double hander work?
The project was conceived on a blue paper towel on the dashboard of my little white van and embellished during a long trip up the A9 and beyond to the Orkney islands. I sometimes refer to myself as the lesser poet of the partnership which Gaia hates, but she is at the heart of a lot that I have created and a constant inspiration.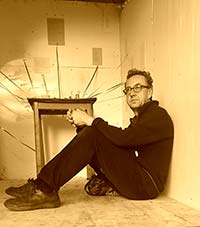 Photo right: Gaia Holmes - Traces at the Gallery at the end of the lane, Coaley, Gloucs.
On social media and elsewhere you present examples of land art. There's quite a lively debate about the pros and cons of land art. What's the philosophy behind your approach? Which artists have influenced you?
Everyone like me who practises environmental, or land art has to be influenced by Andy Goldsworthy but there are many others from the pioneering works of Nancy Holt and Richard Long and members of our worldwide online land art communities like Lucia Pec. I like the transience of the genre and how a piece interacts with the world. I like also how it helps me connect with my immediate surroundings. One of my favourite commissions this year has been to work with a Barnsley mental health charity, Creative Recovery and my project Rewilding the Mind which featured a group land art piece to get us started. I also enjoy reinterpreting the work of visual artists like Bridget Riley and Andy Warhol in other genres.
What makes you laugh?
The expressions of Stan Laurel, quirks of language and my own folly.
In the days when the Tour de France zoomed past your floating home, you were a cyclist. Since then, you have taken up running. Have you got some favourite routes?
I have and I am constantly surprised I can do it at all! I like running on the towpath but also on the tops and we are lucky to have both here in Calderdale. This year I have done the David Goggins 4x4x48 challenge (50 miles in 2 days) and recently joined The Calder Valley Fell Running Club. One day I caught the bus to Burnley and ran home, not because anyone was chasing me as a friend suggested but to beat my longest distance to date and run a marathon. I was a slow cyclist, and I am a slower runner but keep moving forwards.
What questions do you wish I had asked - and how would you have answered?
What are your favourite films? 12 Angry Men & Bladerunner (which I watched for the first time this year!)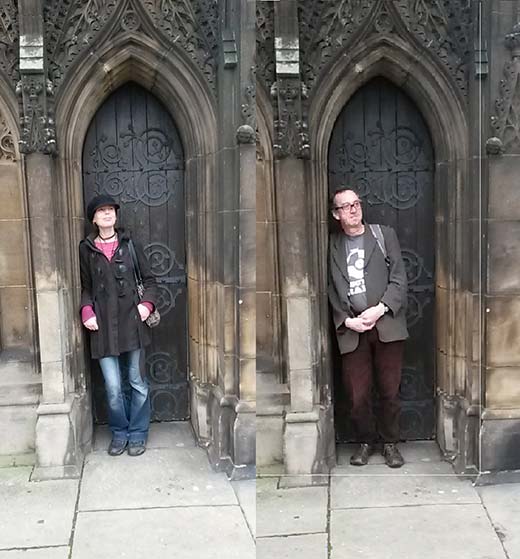 ---
More HebWeb interviews from George Murphy
If you would like to send a message about this interview or suggest ideas for further interviews, please email George Murphy