Helen Baron
Local writer and storyteller, George Murphy interviews local characters and personalities
---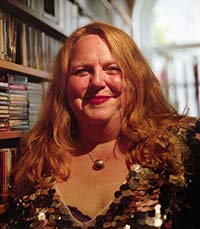 Introduction by Helen Baron
I came to the Calder Valley from Leeds in the noughties to live with my now wife Caroline. We moved to Hebden Bridge in 2014. We owned and ran the shop Ribbon Circus for 10 years before closing it in 2020 just before the February floods and, of course, Covid. I am reasonably well known, I suppose, for my DJ club nights at the Trades Club, billed as clubbing for grown-ups. It's a series of retro, musically themed events mining my huge record collection and knowledge of music. In addition to the day-job and the DJ-ing I am on the board of Happy Valley Pride, a queer arts charity and LGBTQ+ pride organisation based in Hebden Bridge.
---
Q&A with Helen Baron
What are Brighton Beach DJ nights - and how did they get started?
Brighton Beach started in Leeds around 1994. The original night was in the Cockpit every Friday night. Mods, faces, scooterists and the Leeds club crowd queued around the block to get in. There was a band on every week.
Some of the best bands of the Britpop era played a 20 minute set at 11pm in a railway arch at the dark end of the city. It was a lot of fun, we all had a spectacular time back then. It quickly spread to take in Sheffield - we played in the ballroom of the City Hall, Leicester, Newcastle, Birmingham, and London for a while. DJ Dan and I played great 60s music and current stuff that we liked. It really was the original and best at the time.
What kind of music did you play in the early days?
In those clubs, I played 60s stuff, lots of soul, Motown, Northern, RnB, garage and edgy pop but I'd got the job as I was known in Leeds as an indie DJ playing small weeknight clubs for students and weirdos. Those weren't my earliest days though. I started playing records for people to dance to as a teenager in my local youth club - I mixed up disco and punk/new wave. It was what I had.
Any well known bands and singers come along to the evenings over the years?
Oh yes, I think we had Paul Cook (Sex Pistols) and Edwyn Collins show up once. Countless bands of that time played in the club including our favourites Supergrass, and of course Ricky Wilson of the Kaiser Chiefs was a regular. Every week, there was a rumour that Paul Weller was coming. Every week that rumour was credible but I never saw him, which of course doesn't mean he didn't come.
Has the show changed since the early days?
We do an annual birthday bash in Leeds (though not for the past 2 years), the music is still great and we see the odd face from the 90s but somehow the crowd seem younger. I'm always hoping to do a Brighton Beach in the Trades Club here in Hebden. Maybe I'll make that happen this summer.
You were interviewed by Lauren Laverne on BBC 6 Music's Breakfast Show. How did that go?
Ha, well it was Mary-Anne Hobbs as Lauren was on holiday, but it was great. I'd forgotten it was happening and someone had heard it mentioned and phoned me whilst I was driving into work so I sped up to get in on time. I had not long started a new job and had to excuse myself whilst I went off to be interviewed for national radio. It was all very dramatic, very me.
Speaking of Lauren, here's some Desert Island Disc questions to put you on the spot: Can you choose 2 discs from each of your DJ nights and say a few words about each?
I run and DJ a handful of regular nights at the Trades Club in Hebden Bridge. My absolute favourite is D*I*S*C*O (never disco always dee-eye-ess-see-oh). I absolutely love disco. In the 70s, it was music of revolution and freedom for gay, black and latino people in the US and then it became all tame and Bee Gees-ified and remarkably I love that side of it too. Choosing just 2 tracks is pretty impossible but I'll go for Love is Finally Coming My Way by True Example and ooo let's go for Stand On The Word by the Joubert Singers. I mean September by Earth Wind and Fire is hands down the greatest disco track ever so I'm having that too.
Retro Electro has an 80s new wave, new romantic, electro-pop kind of vibe. I remember all of that stuff from the 80s, I'm exactly the right age and I love playing it out. I'm going to choose Situation by Yazoo and Stop by Erasure. That was easy.
Coming up in May at the Trades Club I've got a brand new night called Filthy Gorgeous an LGBTQ+ fundraiser for Happy Valley Pride. I'm going to choose Cabaret by the legendary Liza with a zee and Fuck The Pain Away by Peaches. They go well together.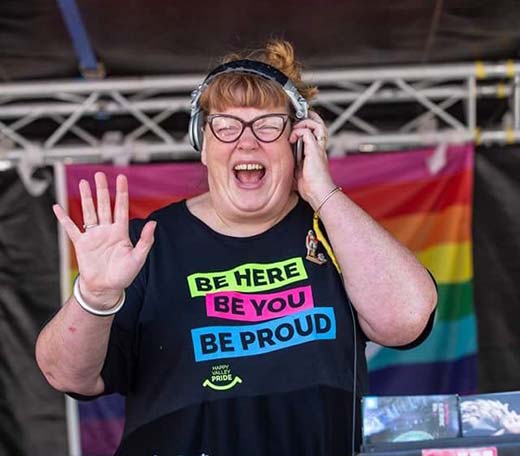 When and why did you move to live here - has it worked out for you and Caroline?
I moved over here in around 2004 to live with my now wife Caroline. We lived in Mytholmroyd but moved into Hebden Bridge town centre in 2014. It's great being close to local stuff like Hebden Bridge Picture House and the Trades Club but it's noisy and extremely busy on a weekend and I'd like a garden so who knows what the future will hold.
Do you do regular DJ nights at The Trades? What's it like playing tracks for a local audience?
See above. I did a night called Common People last Saturday which was old school indie bangers. I usually attract a local crowd that's a bit more diverse than a usual club crowd and I love it when they clap and cheer very politely after all the very best songs.
Please tell us about Ribbon Circus. What was your aim when you started?
We opened in May 2011 and closed in January 2020, almost 10 years, through some of the hardest times financially and meteorologically. It was a craft, haberdashery, knitting and gift shop. It's closed and I've moved on but I can say I met some of the most amazing friends during the time we had the shop and I'm thankful for that.
How did COVID impact on your shop?
We had closed down before the global pandemic affected the UK.
Favourite Film?
Bladerunner
TV series?
The Detectorists
Favourite holiday destination?
I'm fond of Whitby.
Where do you like to eat and drink on nights out?
There really is nothing like a gluten free Origano pizza delivered to your table in Drink? (just across the road) whilst drinking a gluten free lager or a glass of natural fruit wine from their extensive range of delicious booze.
What makes you laugh?
I don't laugh a lot actually. However, wife and I do a series of photos copying well known album covers and pop star photos which can be found on Facebook. If you search Classical Bum Covers, you'll find the page. Doing these makes me howl with laughter. We both laugh 'til we're crying. It's just how stupid and preposterous the situations are. Have a look you'll see.
You've been heavily involved with Happy Valley Pride. Any highlights looking back?
The tea-dance in the Community Centre in Mytholmroyd in 2019 was pretty special It was the hottest day of the year and the queer community came together and danced like they've never danced before, whilst eating our body weight in cake (which were all baked and donated by local people and Hebden Bridge WI members) and supping tea from my collection of vintage china. It was a special and very hot do. I think it was that same year when, for our opening event, we staged a take over of The Old Gate pub, renaming it for the evening too. I remember walking round the corner and seeing the signs had been changed to The Old Gay. That vision still brings tears of joy to my eyes. How tremendous to be that out, proud and visible in our own little town.
Oh yes, and of course Duckie at Happy Valley Pride, both times this superb queer cabaret event has ventured up from the RVT to the Trades Club it's been a sweltering success and a real highlight of the year.
What can we look forward to in the programme for this year?
I know what's coming but I'm not sure if I'm allowed to say until we announce it officially but... there are some goodies in there. There will be surprises and old favourites. It's so exciting I'm bursting to give spoilers but let's just say the vintage china is out of the loft and the sailor suit is ironed.
Your daytime job helps women in crisis. Can you explain your role and how you manage your own emotions during and after work?
I work at The Emily Davison Centre over the border in East Lancs. I split my time between 2 teams. One supports survivors of domestic abuse and violence into recovery, education, training and work and the other is a new national service of support for trans, non-binary and gender queer survivors of domestic and sexual abuse. It is, of course, stressful at times but I don't get emotional about it. That wouldn't be very helpful at all. It is a great place to work and I love my job(s) so I just get on with it. That's the best I can do.
As Lauren Laverne would ask, what book would you choose for your desert island and why?
Dickens' A Christmas Carol would be my first choice (though I only read it at Christmas and it's a short story not a book) or Howard Goodall's Big Bangs about the history of music - I love that book and could and have read it over and over.
If you could only save one record from the shipwreck (LPs and CDs allowed) from your vast collection, which would it be?
London Calling by the Clash
Is there one more question you wish I had asked - and what would your answer be?
A: What would the other record you saved from the shipwreck be?
Felt Mountain by Goldfrapp. Which is not at all cheating. You did ask.