Malcolm Struthers
Local writer and storyteller, George Murphy interviews local characters and personalities
---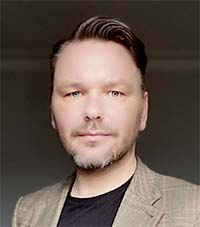 I am originally from West Lothian, which is in between Edinburgh and Glasgow. It is where David Tennant, Susan Boyle and Lewis Capaldi are from, so has produced a fair few famous faces. I am yet to be part of that esteemed group but who knows…
After completing my media degree at Stirling in 2020, I moved (during the fuel crisis which seemed like a big deal then but now seems pretty small fry) to Manchester for a postgraduate in drama. I ended up spending 17 years there and somehow ended up with a career in communications and PR.
In 2017, myself and my husband wanted to go more rural but needed to commute to and from Manchester (commuting seems so last decade). We visited Hebden Bridge in July and moved in at Christmas having fallen in love with the place. One key reason for the move was to get involved in the community and I am now a trustee with Hebden Bridge Film Festival and Happy Valley Pride. Two small organisations that really punch above their weight. Another important reason was we wanted a dog, we now have two that keep us very busy.
In 2019 I also started studying hypnotherapy and earlier this year, in the middle of a pandemic, I decided to give up my relatively secure job in corporate communications to set up as a hypnotherapist. Many may think that foolhardy, and they may well be right, but it seemed like a 'now or never' moment!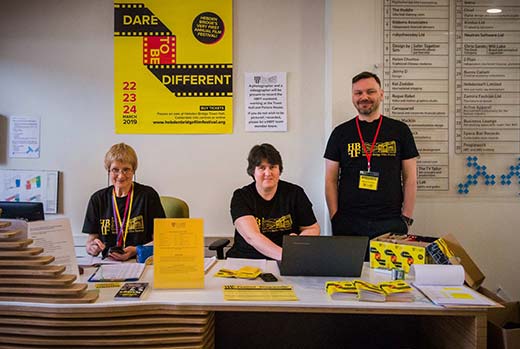 Q & A
What sold you on Hebden?
We came for a day out in July 2017. A week later our flat in Manchester was up for sale and we were viewing houses here – it was that instant! It felt remote and rural but still connected. With a cinema, theatre, gym etc., it had everything we wanted and all in such a stunning setting. Also knowing it was an LGBTQ+ friendly town really gave it an edge.
Favourite music? film? book?
It all depends what mood I am in. BritPop was the soundtrack to my formative years and when I am feeling nostalgic, I will pop on some of the classics. In terms of film, I will watch anything, from Oscar worthy classics to the latest Marvel blockbuster. So I love that the Picture House (when it is able to open) shows such an eclectic mix. In terms of books, I have enjoyed Matt Haig recently, who brings a refreshing perspective to mental health. Also anything by David Sedaris, in particular 'Me Talk Pretty one Day'
How do you chill?
I always feel better and more relaxed after a run in the morning, either out and about or at the gym. I only started running about eight years ago and really wish I had taken it up earlier. It really clears your head. I even managed a marathon in 2017 (that was quite an eventful year), if I had told myself that just a few years previously I'd have laughed.
If I want to relax later in the day it tends to be a bottle of red wine and something good on TV.
HB Film Festival, will it survive Covid?
Without a doubt! We were just a few days away from the 2020 festival when it became obvious we would have to postpone. But the team has worked hard to ensure some of the events could take place online, including Q&As and the recent short film competition. Planning is already underway for 2021, obviously taking into account things still won't be quite back to normal. So watch this space!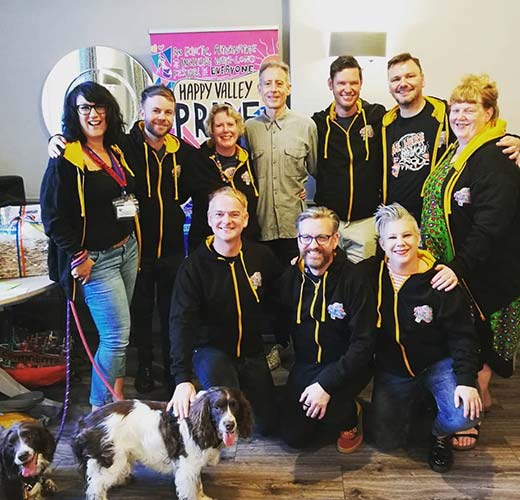 What's been your role in Happy Valley Pride?
I am one of the dedicated trustees. A small team work tirelessly to put on a fantastic festival in July as well as other events throughout the year. We all work so well together but also focus on different areas. I tend to look after the PR and communications side of things meaning I try to make sure everyone knows what's going on and how they can be part of it. I've also been heavily involved in some of the work we have been doing around LGBTQ+ mental health including a really good panel session we did online recently to help people in the current situation
Beach or mountains?
I am not a sun seeker. My favourite holiday destination is Iceland, which has stunning – but freezing - beaches and mountains so can I have that?
Partying or Boxsets?
I do feel my partying days are behind me now, so boxsets. But of course a good night out once in a while is a great way to blow away some cobwebs. Not being able to have a night out this year has made me miss it.
Have you kept your childhood friends?
Quite a few and social media is a great way to get in touch. Last year a few of my university friends came to stay and we had a great pub crawl around the town. We were meant to meet up again this year to mark the 20-year anniversary of us all graduating, but like many things that has been postponed.
What advice would you give the teenage Malcolm?
Don't be afraid to be yourself and don't worry about what other people think. In fact, that is advice I give myself on a regular basis. As a teenager I worried so much about being different, now looking back I realise that we all are and should embrace that.
Who has inspired you?
Not to get overly sentimental, as we are not that kind of family, but my Dad. A number of things led to him having a complete career change in his early 40s. Randomly ending up in a job in the caring profession he found a real sense of contentment and satisfaction and his true vocation. Thinking back to that time has really inspired me in recent years.
How was your wedding day?
It was a cold and frosty Monday morning in November - the 23 November 2015 to be precise. We picked that specific day as it is Doctor Who anniversary (having first been broadcast on 23 November 1963), and we are both big fans of the show, in fact it is how we met. We had three guests and were in the pub by 11am. The highlight of the day – and we both agree on this so it is OK – was a special message from David Tennant! We then had a big party the following weekend for friends and family.
Tell us about your dogs:
We got Rose just after moving to Hebden Bridge. She is a rescue greyhound and she was a racer. I had not realised how awful they are treated so we are so happy to provide her some comfort and security in her retirement. During lockdown this year we decided to get another and welcomed Tom. We were told that two greyhounds are not much more work than one and they like the company and that certainly seems to be the case with them.
What caused you to change your career?
I'd been working in communications and PR for almost 20 years and had been thinking for a while about doing something different – I just wasn't sure what. I had also personally benefitted from hypnotherapy on a couple of occasions in the past. Once I connected the two things, and realised I could potentially be a hypnotherapist, then it all seemed to click for me. The more I studied the more I realised that was what I wanted to do. Leaving a relatively secure job at any time is scary, in 2020 it may seem rather foolish. If I can combine this with doing PR and communications for organisations that I really care about then I will have the best of both worlds.
Hypnotherapy: tell us more!
There is so much to say, I could happily talk for hours about the benefits of hypnotherapy. It has truly changed my life and it can help with so many things. Stopping smoking, losing weight, dealing with phobias are things most people probably know about. It can also have a huge impact on managing anxiety, stress, depression. It can help boost motivation and performance. It can help manage things like Irritable Bowel Syndrome, Tinnitus and more, I could go on. The way I work is to focus on what people want to achieve, what they want to change, and we use relaxation and positive suggestion to achieve this so it is a really positive and pleasant experience. To help people achieve a goal or make a change is so satisfying.
How has lockdown been for you?
Pretty eventful having qualified as a hypnotherapist and set up in business. Though leaving my job during lockdown was a bit of an anti-climax. Leaving drinks over Zoom isn't quite the same. It has been great to be able to get out and about with the dogs, whether up in the hills or down by the canal. So overall I really can't complain. Though it has been tough not being able to see friends and family.
What do you miss about Manchester?
My friends who are still there. It is only a quick train ride away in usual times (and when the trains work) but this year I have really missed being able to pop over for a catch up over a few drinks.
Favourite restaurants?
We are both vegan, so it is great that we have so many options here in town. Humblest of Pleasures is always fantastic and they do a great breakfast. I am always on the lookout for the perfect vegan pizza, and Oregano and the Peoples Pizza do pretty good ones.
Beer or wine?
Wine. Red wine. Always red wine. Easiest question ever!
Which question do you wish I had asked - and how would you answer?
Perhaps what is on the to do list for 2021 and I would have answered to grow my business, finally see friends and family in person and to play my part in ensuring the film festival and Pride come back bigger and better than ever. Also to run non-stop from town to Stoodley Pike and back (I have managed it with slowing to a walk on the steepest parts and recently managed to run up the buttress which was on my list for 2020).
---
More HebWeb interviews from George Murphy
If you would like to send a message about this interview or suggest ideas for further interviews, please email George Murphy