Rob Collins
Local writer and storyteller, George Murphy interviews local characters and personalities
---
Who am I and what do I do?
I'm one of the UK's only specialist ukulele luthiers. Since 2010 my full time job has been as a musical instrument maker - mostly ukes, with a smattering of mandolins and tenor guitars thrown in.
I have a tiny workshop on Victoria Road where I produce around 70 instruments per year for customers around the world which I sell via my website, Tinguitar.com.
As a kind of niche-within-a-niche, I also specialise in creating instruments using reclaimed and UK-grown timbers. In the past year I have made ukuleles from a church pew from Wigan, walnut wood from a farm in Hampshire, laburnum from a garden in Hebden Bridge and part of the bar top I salvaged when the Shoulder of Mutton was refitted following the 2015 floods.
Music in general is a big part of my life, from supporting and sometimes putting on local gigs, to scavenging the local charity shops for vinyl LPs, to helping organise an award-winning music festival in Huddersfield (GNUF, the Grand Northern Ukulele Festival) to running the Hebden Bridge ukulele jam at the White Swan.
Before I took up instrument making as a full-time enterprise, I was a Process Engineer in the chemicals industry. In fact, that's what brought me to Hebden Bridge in 1996 - I moved to a new job in the area following a couple of years living near Milton Keynes. Unfortunately, the company I joined became mired in a nasty takeover battle shortly after I started and things didn't work out for me there. In fact, the job lasted only 18 months, but I've lived here ever since.
Up until 2010 I was a chartered engineer, working on many different sites and projects all around the UK, spending a lot of time away from home and commuting long distances in the process. I've designed evaporators for a dairy in Whitby, control systems for factories in Cheshire, alcohol storage tanks for a bitumen plant in Preston, waste water cleanup for nuclear facilities as well as safety and environmental improvements for many companies. I guess I gave all that up to pursue my creative ambitions here in Hebden Bridge.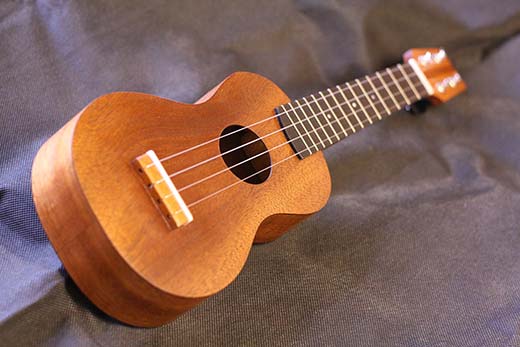 ---
Rob Collins Q&A
Your childhood was in Greater Manchester? Did you have a good time?
I was born in Salford and grew up there in the 70s - 80s, before all the regeneration started in the area. So my memories are of Salford in its run-down state, with unemployment high and not so many opportunities. In some ways, it's sad not to have a rosy view of your home town, but once I went away for University I knew I'd have to leave if I wanted to make a life for myself.
Were you always interested in practical tasks, in how things work?
Always! My favourite toy as a kid was a microscope. Chemistry sets, electronics, science books, rather than fiction; taking the electric motor out of a broken model car to make my lego models move.
What was the first musical instrument you learnt to play?
I learned recorder in primary school. That gave me a very basic start into understanding how music works.
Can you describe Rob the student? Which bands did you follow?
Well, Chemical Engineering is quite a geeky subject! So quite a lot of hard studying to be honest. Clubs and societies I was in as a student – the Roc k society (long hair, double denim, Newcastle Brown) the parachuting club (I did 100+ skydives and would quite happily throw myself out of the back of a plane at 14,000 feet). I was well into blues music at the time and played guitar in a band. We did a grand total of 1 (one) gig.
At the time, there was a thriving pub rock/blues scene in the Leicester-Loughborough-Nottingham area and I much preferred to see those kinds of bands in small venues, rather than big-name stadium shows.
Engineering demands exacting and precise skills. What were the satisfying aspects of that work?
I really like seeing my creations come to life.  That can be mechanical, eg building a new machine or a new production facility, or it can be software to control a process, or a system of analog instruments and devices. That moment when what started as an idea in a person's head becomes a real, practical, working thing. I still get a buzz from that.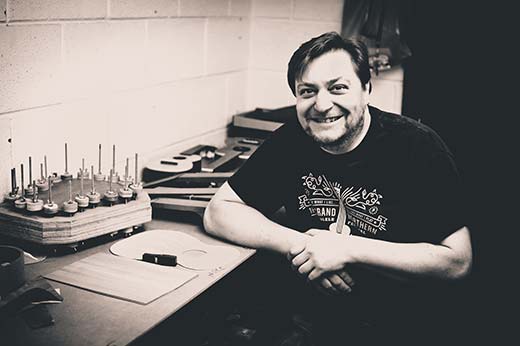 Now you've got a one man business and your own workshop, combining your practical skills and creative interests. Can you remember the first instrument you sold?
When the internet came along, it brought me into contact with new ideas for spare-time projects and one of those was a cookie tin banjo which a maker in the USA had built based on a decades-old magazine article.
I didn't have space to make a long banjo neck so my version was to make a soprano ukulele neck, fitted to a metal Yorkshire Tea caddy for the body. The wood for the neck was a plank of beech which came from the DIY section at Gordon Rigg's.  The end result played and sounded much better than I ever expected.
I sold that one and many other tin and cigar box bodied instruments through the Alternative Technology Centre at Hebble End. That's really what got me started on the path to becoming a full-time instrument maker. It's also the reason my trademark is Tinguitar.com. Because that was my starting point as a maker.
I remember you showing me some slats of wood in a skip on Crown Street and telling me how special the wood was and how you would make it into an instrument. That must cut down on your costs, but also feel satisfying?
It doesn't always cut down on costs, because there tends to be extra processing work and time spent when you're dealing with salvaged materials. Plus there's always the risk of a nail or screw left behind that'll ruin my bandsaw blade. I do feel strongly though, that I should be using reclaimed woods where possible.
Most of the traditional woods instrument makers have been using for generations are either in short supply or in some cases critically endangered - mahogany, rosewood and so on. If I can give new life and usefulness to wood that would otherwise have been burned or gone to landfill, that's going to be a better option than using newly-harvested woods.
Waste not want not - I've also seen you teach people how to make ukes from tin. Have you noticed that many schools are purchasing ukes as a cheap way to introduce kids to music?
It has grown in popularity in schools over the past few years. Especially in primary schools. Where I learned recorder at school, kids are learning ukulele instead. Which I think is great, because kids love to sing as well as play music. You can't sing and play recorder at the same time.
How has lockdown been for you?
Frustrating. Scary. Sad. Hopeful. Optimistic. An emotional rollercoaster.
Someone you know once suggested I asked interviewees these questions:
Favourite book?
The Hitch Hiker's Guide to the Galaxy. It's one of those "quotable" books where you can sneak a line or a quote from it into any conversation and see if anyone else gets it. If they do, then you know you have something in common with them, you've forged a little bond.
Film?
The Italian Job, for the same reason.
Song?
Changes all the time. At the moment it's Underdog by Sly & the Family Stone.
Your parents live in the Isle of Man. Have you been able to keep in touch?
By phone, by social media. Hopefully, we''ll be visiting them later this year.
How did you first get into the ukulele scene?
I got my first ukulele in 1989. There was no UK ukulele scene at the time and I only really played ukes as an add-on to my interest in guitars. The ukulele scene really became a thing from the early 2000s onwards. In 2007, I got my hands on a really nice Hawaiian made ukulele and my interest has expanded from that point on.
There seems to be a uke philosophy that everyone can take part in uke events - including the audience?
In Hawaiian music, there's the Kanakapila which is a kind of informal jam session with ukuleles, singing and other instruments, often at parties or family occasions. I think that the same DIY music ethic has followed the ukulele and become the inspiration for the many ukulele clubs, gatherings and festivals around the world. It helps that ukuleles are small, portable and easy to learn on, lending themselves to music as a participation activity. I love the idea of music being something you take an active part in, rather than it being a totally passive experience.
How come you and Mary ended up running a large festival? That must be very demanding?
It's all Mary's fault! Seriously she is the powerhouse behind it all and I do what I can to help out.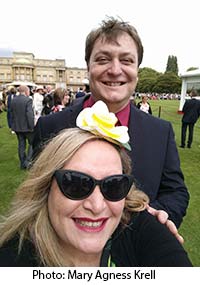 Why were you given the Queen's Award? Were you invited to the Palace?
The Queen's Award was for voluntary service and it was a recognition of the work that the festival team has done in the community.
Not just the festival itself, but the extra activities – care home concerts, community arts sessions, mentoring of our younger volunteers etc.
We did go to the Palace garden party – the tea and cakes were lovely!
I found a very inclusive atmosphere at the ukulele jam sessions at the White Swan. Can you describe a typical session for someone who'd like to come along when such events are allowed?
The uke jam meets on the first and third Thursdays each month, from 7 till 9 PM.
The first thing I'd say is, you don't have to be a wonderful musician to join in the session! I try to make the songs easy enough for beginners and entertaining enough for everyone to join in. It's really all about getting people together to make whatever music we can. None of us are divas or virtuosos, and playing tips, help and suggestions are freely shared.
Song books are provided and if anyone has a song they'd like the group to try, they are welcome to bring copies to share. In a normal session, we'll sing songs from the club song book, about 45 minutes, then take a break for people to go back up to the bar for refills. After the break, we invite people to play a solo (or duo or more) spot if they wish, and you can be sure of an appreciative audience! Then we'll turn back to the song book for more of the club's favourite numbers, typically ending the night with "Always look on the bright side of life," and, "Show me the way to go home."
Good points and bad points about living round here?
Don't get me started!
Have you got a favourite take away?
It's got to be Marco's.
Post Covid, where would you choose for a vacation?
Hopefully Iceland. I want to take a dip in a volcanic spring.
Could you survive after washing up on a desert island?
I'd like to think so. And if I could survive there, would I want to be rescued? I'm not sure.
As for music, presumably you could beat coconuts, but could you make a uke?
It wouldn't be top of my list of priorities.
What luxury would you save from the shipwreck (if your mobile didn't make it)?
Lhamo's chilli sauce.
Which question do you wish I'd asked?
"So Robert, did you ever in your wildest dreams imagine that making ukuleles would bring you such fabulous wealth and luxury?"
Finally Rob, you've great knowledge of popular music. Do you mind choosing a favourite music video for us?
Bill Withers singing "Ain't no Sunshine" on Whistle test. Such an understated and soulful performance.
---
More HebWeb interviews from George Murphy
If you would like to send a message about this interview or suggest ideas for further interviews, please email George Murphy