Flood warning goes at 9.05 am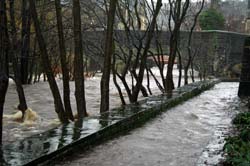 Environment Agency has flood warning listed for our area. We understand that Burnley Road is closed and people are being turned round at the Turning Circle. Rain still pouring - 21st January, updated 10 am
Mayor praises "bold and far-sighted" Town Council budget - more info - 17th January
Labour calls for imaginative Calderdale Budget - more info - 11th January
SECONDARY SCHOOL RESULTS
Results from local schools, including Calder High - 10th January
Hebden Bridge businesses offered help to fight energy bills - more info - 8th January
Hebden Bridge Partnership news - same chairman but new name, new members and new purpose - 6th January
For latest news about transferring the Council offices building to community management see the Bridge Centre website - 4th January
Fundraising event for Palestinian Village
- added 3rd January
Chris McCafferty MP for Calder Valley has told the Hebden Bridge Web that she is both shocked and saddened by the assassination of Benazir Bhutto. See news in brief - 27 Dec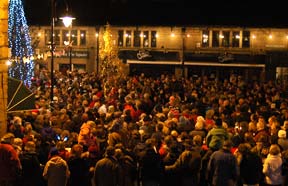 It was estimated that over one thousand people came down to the centre of Hebden Bridge for Carols in the Square this Christmas Eve - See previous years
Keeping it Local - New Economics Foundation workshop in Hebden Bridge - added 19 Dec
Central Street area upgrade - more info - 17 Dec
£232,000 extra for Hebden Royd - 17 Dec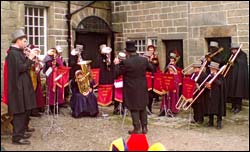 Above: Hebden Bridge Junior Band play Gibson Mill. Click here to enlarge picture and for details about their coming busy couple of weeks including the Annual Concert - 15 Dec
Monthly steam train for Hebden Bridge - 15 Dec
Free parking in the run up to Christmas - after 3pm on a Thursday - see news in brief - 12 Dec
People's Millions award and Calder Holmes playground - your views sought - 11 Dec
Primary School Results - most schools in the Hebden Bridge area fare less well this year in spite of an improvement nationally - 8 Dec
SECOND GENERATION BROADBAND - report of 3-C's public meeting. Will Hebden Bridge be left behind again? Help campaign for local fibre - 6 Dec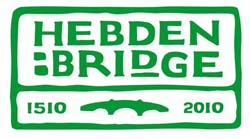 Mark the 500th anniversary of the Old Bridge with a year long celebration, by the whole community, of the unique qualities of Hebden Bridge in 2010 - see www.hebden500.co.uk - updated 13th Dec
Planning dispute: Calderdale accused of fraud - see Planning Watch - 4 Dec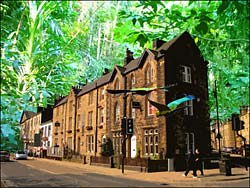 Hebden Bridge 2032 - exhibition at the ATC
CALDER HOMES PARK HAS WON
£68000 FROM PEOPLE'S MILLIONS - 28 Nov, 12.35pm,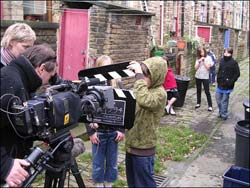 See short film on ITV1, Calendar, at 6 pm (27th) Update and photos. ITV1's Calender and the lottery funded People's Millions will feature Calder Holmes Park - 28 Nov
Using the Freedom of Information Act - report of the public meeting at the Stubbing Wharfe - 23 Nov
Abandon support for ID cards, Lib Dems tell Chris McCafferty - more info - 22 Nov
Chris McCafferty MP seeks assurances in Parliament from David Milliband in respect of Gaza - see news in brief - 22 Nov
58 "dwellings" planned for former Mytholm Mill site - See Planning Watch - 20 Nov
TownTalk 10 - latest form Hebden Royd Council
Mayor of Hebden Royd - not quite Brain of Britain - see news in brief - 19 Nov
Comedy coup for Arts Festival. Festival supporters who turned up for the Hebden Bridge Arts Festival open meeting on 15 November were the first to hear - more info

- 19 Nov
Hebden Bridge Handmade Parade? Would you be interested in showing up with a silly costume and dancing down the street? More info - 17 Nov
CHRIS GREEN CHOSEN AS
COSMO MAN OF THE YEAR

Chris Green of Hebden Bridge was one of three short-listed for this year's Cosmopolitan Man of the Year - for his work running the White Ribbon Campaign. More info and audio interview
Houses over the River, Hebden Water - revised plans submitted - see Planning Watch - 7 Nov
Autumn Clean Up on
Saturday 17th November
More info
Bonfire: Hebden Royd mayor thanks all involved with this "fantastic event" - see HB Bonfire thread in forum
Lumb Falls plaque to remember
Ted Hughes and "Six Young Men"
- more info and photos - 4 Nov
Niladri abandoned a well-paid theatre job to launch an ethical confectionery business. Full page Guardian article today on local chocolate maker - see news in brief - 3 Nov
Cotton Mill Express - steam train to pass through Hebden Bridge on Saturday, 3rd November - 2 Nov
Kathy Kelly comes to Yorkshire
"Battlefields Without Borders: Iraqis in Crisis" CND meeting
- moe info - added 1 Nov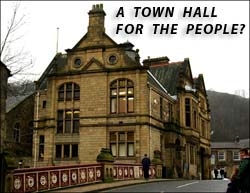 Local group initiate plans to make the Town Hall once more the heart of the local community - more info - 1 Nov
Calderdale to appoint Rural Housing Officer to to secure funding for more social and affordable housing - more info - 22 Oct
Colden "Eco-homes" land now sold a second time - to an overseas bidder according to reports reaching the Hebden Bridge Web - see story to June this year - 16 Oct
DAILY TELEGRAPH FEATURE on Hebden Bridge, home to Britain's worst industrial disaster, by Mark Piggott. A Cape Asbestos company spokesman is reported as saying 'an apology from today's management would be an empty and meaningless gesture'. Read the 3500 word article now reproduced on the Hebden Bridge Web - 6 Oct
PlasticBagFree Hebden Bridge features in main Guardian news, including a half page picture of Bag Lady Louise. BBC's Politics Show have also approached the Hebweb about the first bag free month - more info - 22 Sept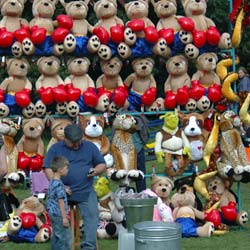 Mytholmroyd Gala - see more photos on the Mytholmroyd Net website - 22 Sept
TED HUGHES THEATRE
new theatre to be named after our famous local poet, at Calder High School
- see Mytholmroyd Net - 19 Sept
Housing Energy Grants: Hebden Bridge householders are missing out on thousands - more info - 11 Sept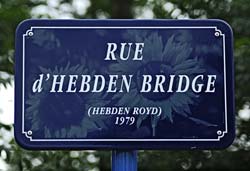 Hebden Bridge's twin town of St Pol
road naming ceremony - more info - 5 Sept
HEBWEB FORUM - thousands of messages and hundreds of threads about issues affecting our town and area, all instantly searchable. Latest threads include Power in the Valley, Hebden Bridge out of control, St Pol, Dog safety, Wish List for 2008 and cable car for Hebden Bridge.
Lord Dales closes - one of the few remaining "real" shops, according to our forum correspondents. HB now has no electircal shop.
2007 ON THE HEBWEB
- news highlights
A sample of the hundreds of news items which have appeared on the Hebden Bridge Web over the past 12 months
JANUARY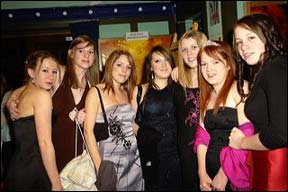 Hebden Bridge Picture House invited people to dress in tuxedos and cocktail dresses to celebrate its brand new Dolby Digital surround sound system, and a special screening of the new Bond movie Casino Royale. More
FEBRUARY
Three new waymarked trails mean that both visitors to the town and locals are able to enjoy the paths to Hardcastle Crags, Heptonstall and Stoodley Pike without necessarily needing to take a map or guidebook. Thanks to the Hebden Bridge Walkers' Action Group.
MARCH
A vigil as part of the nationwide protest against the renewal of the Trident nuclear weapon system.
APRIL
Robbie Coltrane
Comes Second in World Championship
Dock Pudding Contest
MAY

Elections to Calderdale and Hebden Royd Town Council
JUNE
June 2007: Plans to develop the Colden countryside are thrown out
JULY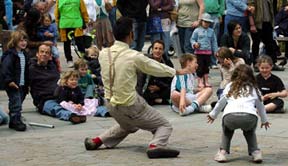 Hebden Bridge Arts Festival - more
AUGUST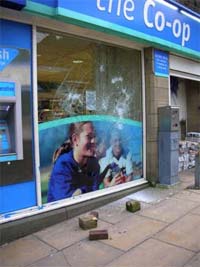 SEPTEMBER
Hebden Bridge goes plastic bag free - more
OCTOBER
| | |
| --- | --- |
| ELAINE CONNELL, co-founder of the Hebden Bridge Web, died Monday, 1st October. See Lives Remembered | |
NOVEMBER
Hebden Bridge and its surroundings celebrate winning the People's Millions Big Lottery Bid which means the Town Council now have almost £100,000 to spend on the Calder Holmes play area. More
DECEMBER
| | |
| --- | --- |
| | Over 150 come along to see plans for the Council Office and give support on Saturday, 15th Dec. For latest news, info and documentation see the Bridge Centre website |
Small Ads - accommodation and studio space wanted; holiday cottage in Skye and more
Discussion: Public transport in HB; Car emissions and smoking; Plastic bag campaign; removal of Waterways skip; mindless violence, and more
See History for info about the recently added Prehistoric section of the HB Local History Society
Watchdog group - report of latest meeting and form for joining Civic Trust
Accommodation - new section - bed and breakfast choices as well as offbeat "Hebden Bridge" options, eg, self catering for groups on the tops, moorland bunkhouse at 1100 feet and futons in bohemian family house
Mytholmroyd Station Mosaic
More info - 2 Sept