Tuesday, 19 March 2019

Number twelve of the regular column from local writer and story-teller, George Murphy.
---
Murphy's Lore 12
---
Politics Special
Raymond said, "Before you can come in, are you Labour or Conservative?"
His mum, a handsome woman with honey blonde hair done up in Swiss braids, was sitting by the kitchen table, trying not to laugh. I'd never heard of Labour or Conservative, but I said 'Labour,' because 'Conservative' sounded posh.
Raymond's mum cheered. She said, 'Let him in, poor boy!' in a foreign accent.
When Raymond's dad came home from work, she hugged and kissed him. I told Raymond my parents never did that. He said, "Well, mum's German."
On the day of the election, my mum and dad got a lift to the polling station in a Conservative canvasser's car, with posters of Selwyn Lloyd in the window. When they got to the polling booth, they voted Labour. They walked back.
Politics and storytelling
As the Conservative pollster Lynton Crosby has pointed out, you only need to win 1 out of 4 people to form a government. You just need to sway a few 'swing voters' in marginal constituencies. Belt out a simple story - for instance, that Labour caused the banking crash by overspending on benefits for scroungers - and soon enough folks will forget that the deficit was caused by bailing out the banks and the crash was the long term consequence of Thatcher and Reagan's deregulation of the banking system in the 1980s. Not everyone will fall for your tall tale - but you don't need to convince everyone.
Crosby was known for using 'Dog Whistle' tactics. In the last London Mayoral Elections, he got Zac Goldsmith to focus on Sadiq Khan's ethnicity. It was Lynton Crosby who masterminded Theresa May's 'Strong and Stable' Election campaign. So perhaps he's not such a 'mastermind' after all.
Guardian man
It was a hot day for a walk. The door was open, so I ducked into the William ll in Sowerby Bridge for a pit stop. Whilst ordering my pint, I noticed a dramatic situation developing. A semi-circle of tough looking locals were silently staring at a seated couple - a dreadlocked black guy in leather gear and dark glasses and his pretty, dark skinned girlfriend, who was clad in a white faux fur coat - despite the weather - and gold coloured high heels. As an anti-racist Guardian reader, I knew what I had to do.
Carefully holding my full pint, I walked over to the couple - stepping over bags they had apparently placed as a makeshift barrier between themselves and the surly looking locals - and sat down beside Ms Faux Fur. They looked surprised, but I nodded, effecting a nonchalant solidarity and raised my pint to my lips. I'd had one sip of the dark nectar, when the landlord produced a mic and announced…
"And now, the moment you've all been waiting for… Your Page 3 Stunner, Lovely Alysha and her Dance of the Arabian Nights!"
Exotic music blasted out and Lovely Alysha rose from the seat next to mine, turned her back to the locals and then dramatically threw her coat to her partner, revealing an interestingly minimalist take on traditional Middle Eastern evening wear.
On each slinky, gyrating elipse round the stone flagged bar, Alysha turned and paused in front of me, to the delight of her rhythmically clapping audience. I had become her unwitting stooge! It's even possible that, at one point, mesmerised by the close-up, skilful twirl of her strategically placed tassels, my head may have circled in an involuntary and rhythmic unison with her bosomy oscillations.
I was trapped, with a pint of beer to finish before I could make good my escape…
Work Capability Assessment
There weren't enough seats in the Exchange and the locked lavatories were 'staff only'. People were being interviewed at tables in earshot of those behind them, so when it was their turn, he said his son needed a private room.
Sheilagh was a gentle, motherly woman in her 50s, with a shy smile and a less than full complement of teeth. He only interrupted once. When she asked what type of employment he was looking for his son answered, "I'd like to work for MI5," and her pen hovered over her form for a moment until her eyes turned appealingly towards him. He asked had she perhaps read the letter from his psychiatrist? Sheilagh looked abashed at this and his lad reassured her. "It's alright." A month later they were called back for a second interview.
It took an hour to get there and then they waited inside for forty minutes, with no ciggy break for the darling boy in case they got called. Eventually, he went and asked how much longer it would be, because his son suffered from psychosis and as the toilets were locked they'd soon have to go outside and pee against the wall of the Exchange and then they'd lose their place in the queue. The official name-checked them, then ran his finger down his file. A light bulb turned on above his head and he unsmilingly ushered them through to the Interview Room.
Sheilagh said they should have received a letter… Guess what, they didn't need a second interview after all! She'd seen to it personally. She was so sorry they'd made a wasted journey. "It's alright!" his son said.
Travelling back, he was relieved rather than happy. His son was now officially, 'Incapable of Work'.
Next week's headlines…
Choose from…
EU MUST BE JOKING
THANKS A BILLION, SAY DUP
THERESA PULLS IT OFF!
PEOPLE'S VOTE 'AN INSULT TO VOTERS!'
NO EXIT FROM BREXIT?
PUBS BAN THE B WORD
OHHH, JEREMY CORBYN!
Lone gunman
It was just before the referendum. The gig in the Salvation Army Mission in Batley started early because the men wanted to get home to watch the Wales versus England match. I started with Uncle Herbert's Machine:
'This pub,' said our local landlady
'Once accommodated Franz Josef Lizst'
I said, 'What about Brahms? Did he succumb to its charms?'
When an old chap behind me said, 'Pssst!'
That was just as - down the road - the local MP walked towards the library for her weekly surgery.
The gig went well. Everyone laughed in the right places and joined in the songs. Driving away, I turned on the radio for the prematch build up and instead they were talking about 'Joe Cox', the Batley and Spen MP. I couldn't picture him. It was only later, watching the TV news that I remembered her: that zestful new MP who lived on a canal boat when she was in London. She had two small children.
But people sometimes react in strange ways. This weirdness doesn't get captured in fiction, where characters usually show some coherence in character. When I mentioned Jo to a left leaning woman who works in Hebden, she said, 'Oh her? Pretty little thing… they wouldn't make such a fuss if it had been Angela Eagle.'
Butter up award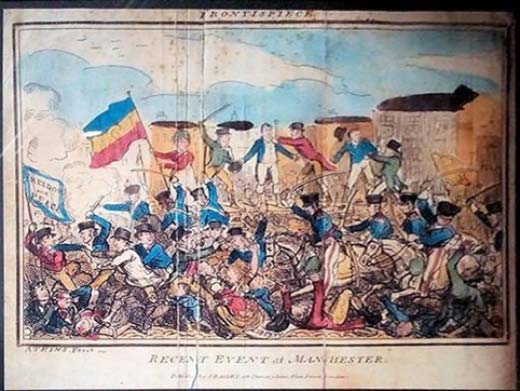 This week the toast landed right way up when I watched my friend Alan Fowler talk about Peterloo and its aftermath for the Hebden Bridge Historical Society. (See HebWeb report) He's dragged himself out often enough to watch me, but this was the first time I'd seen him in action and the place was packed. As well as describing the events on the day, Alan discussed the slow movement towards universal suffrage in the years that followed. After the First World War women were granted the vote from their 30th birthday. Due to the decimation of the male population, politicians didn't want women to make up the majority of voters.
Doctors and nurses …
It's well known that the Prime Minister, Jeremy Corbyn and Diane Abbott had adventures in cornfields during their formative years. But what if it was in the same cornfield? This here's an extract from a Cautionary Tale:
Beyond that Vicarage Garden, neat,
There grew a golden Field of Wheat.
Her Parents snoozing, with the Tele on:
Theresa decided upon a rebellion!
A Sign warned she'd be Prosecuted,
But over that Garden Wall she scooted,
Kicked off her old shoes and ran like a Faun,
Cutting a swathe through golden Corn.
But Oh Lor' and Heavens Above…
She'd never heard of the 'Summer of Love'.
For alas, in that Cornfield, whom did she see?
But young Diane and Jeremy!
Those Oiks who lived on the Estate…
She shut her Eyes, but far too late!
For they were playing Doctors and Nurses -
She ran away from Diane's Curses.
Back Home she muttered, 'Gosh!' and 'Crikey'…
They'd quite disturbed her Inner Psyche -
Her Teenage Mind had turned Chaotic -
Her Smiles and Scowls became…Robotic…
Her Doctor said, 'It's plain to see,
You're getting flash backs of Jeremy!'
(I'll leave it there, for now. Next week: Spring!)
---
If you would like to send a message about this piece or suggest ideas, email George Murphy
---
Previously