Students Protest against Tuition Charges and Cuts
Wednesday, 24 November 2010
Today a few hundred students from the Calderdale area took part in a protest against public sector cuts, particularly cuts in education and rises in tuition fees.
The protest was organised by local sixth formers who go to college in Mytholmroyd, Halifax and Huddersfield in order to coincide with the National Walk Out Day.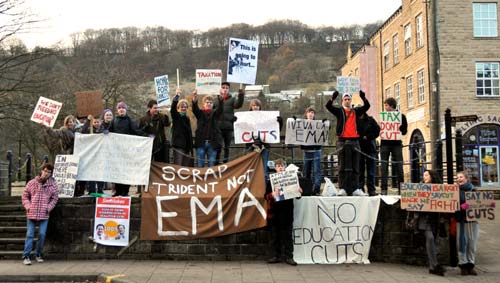 The first protest was held from 7:30am - 9:30am at the Marina in Hebden Bridge. Most students involved then dispersed and went to their lessons. At 11am students walked out of Calder High and joined our protest, however, no students from lower school were encouraged to join the sixth former's protest at any point.
The protest then marched back to Hebden Bridge, took a short break and reconvened at 3pm. The protest then moved back to the Marina and protested for two hours, at which point the following statement was read before peacefully dispersing:
Our message today is simply to demonstrate the anger felt by many in society against our government's actions, specifically their policy of cutting higher education to the extent that it will only be available to the well off. We represent a nation of people who have been misled by the current government, a government whose Deputy Prime Minister said he would not raise tuition fees. This regressive cuts system, of which education is just one part, will hit the most vulnerable hardest, leaving those with disabilities, children and from poorer families in the dark. The depth of the cuts will damage this country and create an ever more growing gap between the rich and poor, and in education at least, an intellectual one as well as a financial one. Education is not a privilege but a right, and it is not fair to hurt those in society whose lives haven't even started yet.
Thanks to Cormac O'Neill for the above report
See also
HebWeb News - Young People's March Against Cuts
HebWeb News - Boots = Tax Dodgers Protest
HebWeb News - Unions Campaign to protect Calderdale services
HebWeb News - Labour calls for Council debate on tuition fees and grants
HebWeb News - Students Protest against Tuition Charges and Cuts